PDU Management Extension
About
PDU Management For EasyDCIM allows to manage PDU devices by e.g. Raritan, APC, CyberPower and others in the system. Thanks to that we can remotely control the outlets of the specified material by the Turn Off/Turn On and Reboot actions. The extension gathers the collective statistics (along with each separate appliance) about power consumption and the number of turned on/off outlets.
Features
Control PDU Devices Outlets - Turn On/Turn Off/Reboot
View General And Single Device Statistics:

Power Consumption
Number Of Turned On/Off Outlets

View General Graphs:

Top Power Consumption Devices
Power Consumption Summary
Outlets

View Device Graph:

Power Consumption:

Total
Single Power Outlet (APC, Raritan)

Integrated With Device Summary View:

Outlets Widget
Synchronization Between Outlet And Power Section

View Events Logs
Supported PDU Device Manufacturers:

APC
Aten PDU
CyberPower
Dell rPDU
E3Meter
Enlogic
Panduit
PowerAlert
Raritan
Sentry Switched PDU
Switched PDU
Add PDU device
There are a few options to add PDU devices. Firstly, by adding new device and typing the device's IP address and filling in the other data properly. Secondly, provided auto-discovering pattern will determine all essential details and update them on the system level. When you are adding a new device it is advised to remember about choosing proper operation system from the list (appliance variety).
Devices list
By proceeding to section Device List in the extension view, we can spot the catalog of all PDU devices which operation system is Raritan, APC or CyberPower. Currently, the extension supports products made by these two producers only. Listing shows up the necessary information about device as well as report about energy usage measured in Amps. In the upper part of this section valuable knowledge is available about summary power management as well as statistics on turned on and off outlets.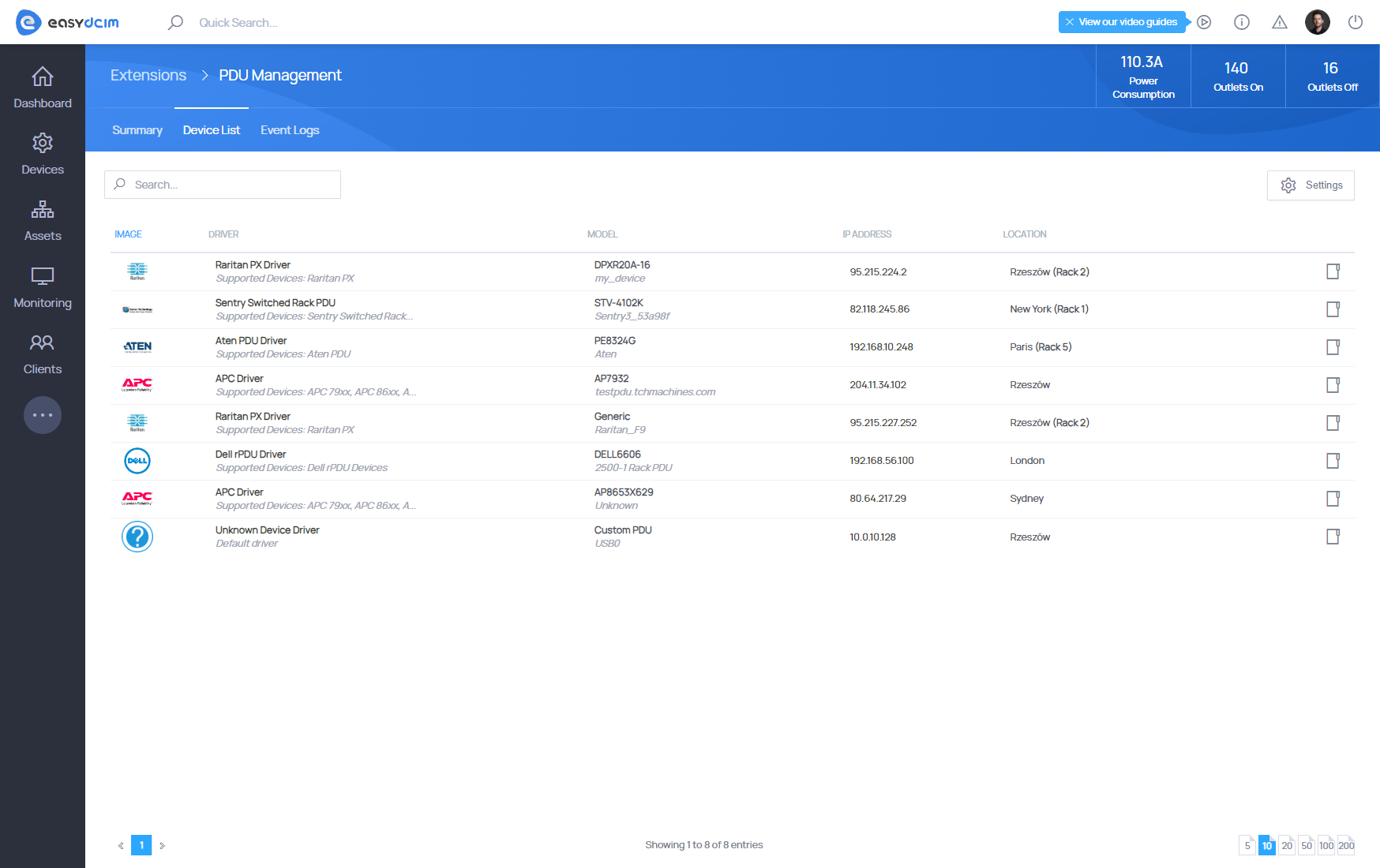 Use the action menu to move to the outlets summary. The list of outlets is visible from the Power section of the device summary view. Particular outlets can be freely managed by using action menu.