For the past couple of months we have been reaching out to various companies we are proud to be partnering with. Mostly, because there is no better way to evaluate the effectiveness of your product than through a first-hand account of the people involved with it on a daily basis. But also, to let these inspiring success stories encourage other business owners to improve their performance from "ok" to "excellent".
Today we talk to Dylan Kraklan, Senior Vice President at DediPath, about ways in which EasyDCIM helped his company keep order in their expanding data center infrastructure.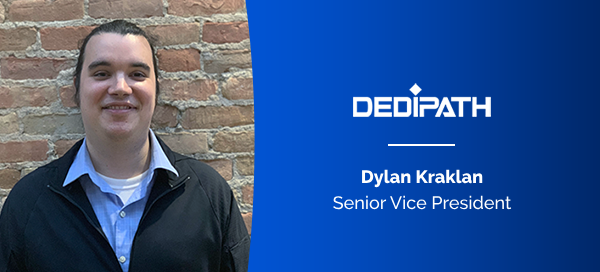 Search for a centralized management solution
To gain some background on how DediPath came to cross paths with EasyDCIM in the first place, we asked Dylan about the software tools he had the chance to interact with during his 10 years of web and server hosting experience.
The first one to be mentioned is proprietary software: "The company I worked for had written their own panel and that was my very first exposure to large-scale management of servers."
From Dylan's further comment we gathered that this type of gear was not necessarily bad. But rather than a commercial and fully-featured product, it was simply something that came out of necessity, to address the company's most burning needs. And later on, as the business grew, the software grew with it, slightly outdated, as it was maintained by one person only.
After switching on to the next company, Dylan recalls testing out a couple of other solutions as well, but none seemed to hit the spot:
"There is not a ton of products that do what EasyDCIM does, to a scale it does. We came to the conclusion that even if we were to go with another product comparable to EasyDCIM, it would still require of us to do a lot of programming. And the main reason is that EasyDCIM offers something that no other tool does – fully automated OS installation. You can find a lot of products to put all your servers in a rack, but then you need a second product to manage the IP subnets, and yet another product to manage the OS deployment."
As a staff member responsible mainly for network and systems administration, it is fairly easy to comprehend why automatic provisioning was Dylan's primary concern. And how much keeping everything in one system instead of three benefits the whole company cost-wise as well.
The most pressing issue finally resolved
Although the subject was more or less covered by Dylan already, we asked him some extra questions in what ways EasyDCIM relieves DediPath on an everyday basis.
"One of the things we've always wanted to do is be able to give clients IPMI access easily. Now, whenever a new server order is deployed, we have EasyDCIM create new user account automatically, and just send them a custom product welcome email. That gives them the IPMI logins and they can log straight into it themselves."
Based on how much time this particular feature saves both Dylan and his team, we guessed this must be their single most favorite utility of EasyDCIM. We were almost right, because the feature that Dylan values the most personally is IP address management.
The reason for this is pretty much straightforward: "That's what I spend most of the day working with. I like this function a lot because at the company we have 20-25k servers and that's a lot of IP addresses to manage, we have a lot of subnets."
And to end the interview on a lighter note, Dylan adds with a chuckle that "My other favorite feature is automatic deployment because no one wants to install CentOS by hand anymore."
A few final words
Our virtual meetup with Dylan confirmed the observations we have made throughout all interviews conducted so far. That regardless of reasons for choosing our software and different ways of running their data centers, all business owners express a similar opinion about EasyDCIM:
"It's a product that does a lot, and in pretty reasonable price too. If you go out there and look for other solutions that will do what EasyDCIM does, you're going to spend a few times more. Or spend a lot of money upfront to have a custom solution developed for you, and then have to maintain that code base or things are going to break because of extra integrations like with WHMCS."
Dylan was in fact yet another person to mention that establishing a two-way connection between EasyDCIM and WHMCS was a huge life-saver for their company. And since that was always one of our primary goals, we are genuinely pleased to hear those kind words of approval.
We are always ever so eager to help entrepreneurs break free from the software that is confining their full growth. Explore all cutting-edge solutions that EasyDCIM has to offer and let's push your data center to new levels of success!