Modern data center architectures are getting more and more complex. So much so that without a robust automation strategy managing them would be close to impossible. Unarguably, automation spares lots of pains by minimizing human errors, cutting the costs and freeing up the staff from mundane but essential data center tasks.
No one knows it better than Neil Emeigh, President at Rayobyte. We were more than honored to help his company thrive on ever new levels of automation through our software. Recently Neil agreed to join us in a little chat and spill some beans on what made his company choose EasyDCIM in the first place. Have a pleasant reading!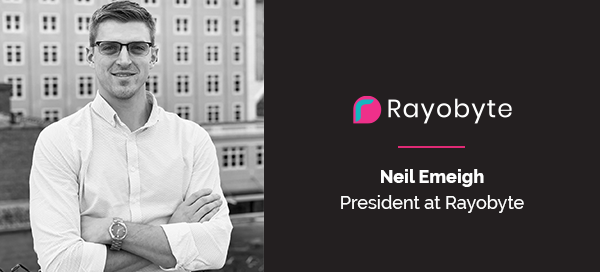 Before EasyDCIM…
Rayobyte has stepped into the data center market a few years back and as many other start-ups, soon realized the amount of work that was cut out for them. Most of all, they needed a reliable automation software solution that would provide centralized access to all their data center resources. First off, we asked Neil what tools Rayobyte was using for this purpose before finding their way to EasyDCIM.
The very first solution (Neil could not help but smile at the sheer thought of it) was just a makeshift excel sheet online that they quickly abandoned in search of more efficient alternatives. But none of them seemed to meet the needs of a yet developing company entirely. The two software instruments that did capture their interest were either too pricey, or "features were impossible to implement upon request, nor could we do it ourselves due to no API. Too many bugs/issues didn't allow us to be comfortable growing."
After being on a hunt for a perfect tool for a while, Rayobyte came across EasyDCIM, and luckily for both sides – stayed there for longer.
…And After
Today, Rayobyte uses EasyDCIM to run and manage hundreds of servers that operate their popular proxy service. Interested in what exactly changed for Rayobyte after they have switched their business automation software, we turned to Neil for some extra insight. And we got more than we could have wished for!
"All of our owned hardware and parts are stored in a single system that allows for automatic ordering with WHMCS. Other management abilities (PDU, switch, CPU/temp/etc, etc) are yet to be used to their full potential, but as they continue to mature we'll be adopting them more and more. The biggest achievement is being comfortable having all our inventory in a system we can trust for the long term."
Being obsessed with server provisioning and management automation, we never stop seeking new ways to push it to the next level in EasyDCIM. This obviously includes peeking at the other players on the market and learning a thing or two from them whenever we can. This time also we jumped at the opportunity and picked Neil's brains on how he would rate automation in EasyDCIM versus other software his company had the chance to test out.
Without a shadow of doubt in his voice, Neil concluded that most of them, "from order to sending out an email for the credentials for the server and the IPMI include some steps that require human involvement and we didn't have that problem with EasyDCIM."
Being oriented at fast service delivery, you must be able to reduce the time needed for ongoing tasks and concentrating on more strategic projects. And who doesn't like the idea of generating maximum profit with minimum effort, right? Neil also agrees that "spending an hour of engineer time to set up a server takes away a lot from the bottom line". Establishing a solid software background is pivotal to reducing IT costs without losing out on service quality. And we feel extremely proud to have been recognized by Rayobyte as a means to this end!
Before heading over to the last part of our conversation, we probed Neil about the feature that his company keeps deriving the greatest advantage from.
"Full automatic deployment from start to end after a WHMCS order. This end to end solution has potential that is not seen very easily on the market elsewhere."
This particular piece of feedback added a lot to our confidence because many clients in fact approached us on the subject of integration between EasyDCIM and WHMCS in the past. And so, seeing the growing interest in this popular billing and automation platform, we finally hooked up with guys from ModulesGarden who are experts at designing high-end addons for the WHMCS system. As a result of this close cooperation two modules were delivered – EasyDCIM Dedicated Servers For WHMCS and EasyDCIM Colocation For WHMCS. Both are offered completely free of charge to let you enjoy the best of two worlds at the same time.
And it was great to hear from Rayobyte they really do!
The power of feedback
Many companies shy away from customer feedback. Because sometimes it comes with appraisals, sometimes – expectations. We thrive on both. To us, software development is more about brainstorming ideas with clients, finding the most optimal solutions, and working hard towards their direct implementation. And Rayobyte was more than generous with all the support they shared on our platform throughout these many months of being our dear partner. During today's session we received even some more:
"Without your responsive team fixing bugs, adding features, etc, my feelings toward the product might be entirely different. You have me as a customer for life and your one-time expenses for this amazing developer team will pay off over the months/years. A very wise business model that I highly suggest you continue to pursue."
These words melted our hearts. But much as we appreciate this token of loyalty, we never intend to simply rest on our laurels. So, looking ahead into the future of EasyDCIM a bit, we asked Neil Emeigh about the upgrades that he would still love to see in our software. At the top of his company's list appeared a broader toolkit related to IP management. And feeling pretty closely aligned with this prospect, we already look forward to getting around to it in earnest!
Final thoughts
Nowadays data centers have plenty of responsibilities, but not necessarily personnel. Rayobyte realized that the only way up is through full-time automation of their server ordering, provisioning, and management processes. This decision led them straight to EasyDCIM. Did they ever consider switching back to the tools they once tested? We believe Neil's following words to speak for themselves:
"As for server management, inventory, monitoring, ordering, etc, nothing compares to EasyDCIM in terms of functionality and price."
Slightly apprehensive but also full of hope, the moment came to ask Neil the decisive question. Whether he would recommend EasyDCIM to other server providers struggling with similar shortages his company once faced. Neil answered with an anecdote about how he met up with a close friend only to find out that they both used and loved EasyDCIM.
This can only mean one thing – two testimonies are better than one, right? 🙂
But still, nothing can compete with first-hand experience so see for yourself how EasyDCIM can help your company reach new heights of success!