In the context of today's energetic business growth in cyberspace, a website embodies much more than just a digital storefront; it's like a virtual gateway through which users launch into their journey, shaping the initial impression they have of your offerings. This is why it's crucial for the website to be just as inviting and intuitive in its navigation as the product itself.
Here at EasyDCIM, we recognize and wholeheartedly embrace the synergy between our website and the user experience. Key components of our page, such as the client area and documentation, directly impact how users interact with EasyDCIM on a daily basis. Therefore, as we marked the 8th anniversary of EasyDCIM's inaugural stable release, we set out on a daring mission to reimagine our website. Our goal was crystal clear: transform it into a captivating reflection of the magic that happens within EasyDCIM. Today, after months of passionate work, we are absolutely thrilled to unveil the all-new, redeveloped EasyDCIM website.
Where to look for the magic?
In short, everywhere! Every single stop on your journey through the EasyDCIM pages has been totally reconstructed, designed from the ground up to incorporate the latest trends, while respecting the browsing patterns and preferences of our beloved users. Here's an intriguing glimpse of what's new!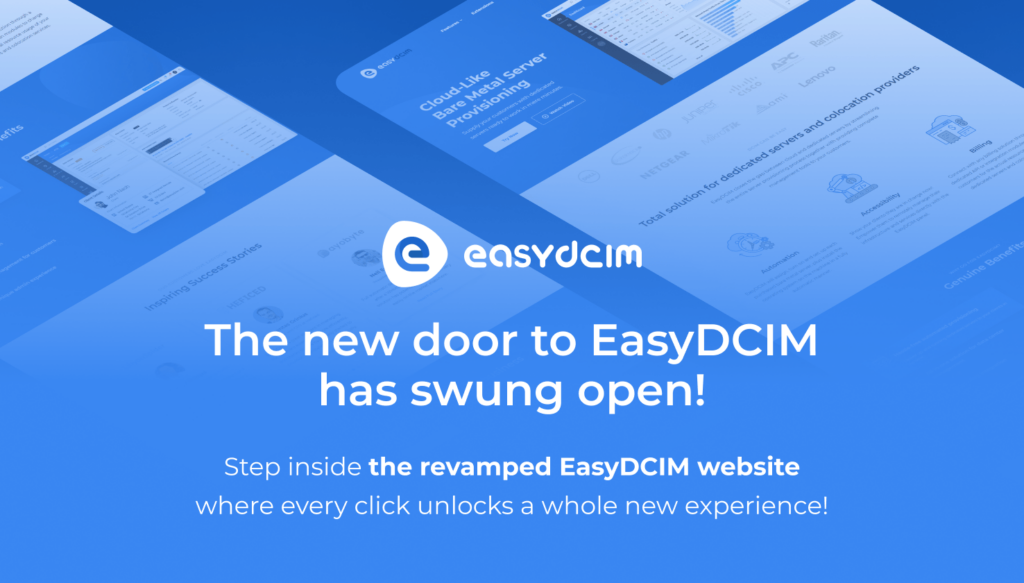 We set our sights on providing the highest possible user comfort – whether you're at a desktop computer, balancing a laptop on your knees, or holding a smartphone or tablet. We recognize that, just like our versatile EasyDCIM control panel, our website must adapt to all kinds of usage scenarios present in today's vibrant virtual reality.
Picture this as the red carpet of our digital world. We've rolled out a grand display of all the spectacular features our system offers, supported by nearly 200 authentic screenshots. You'll be captivated in particular by:
A brand-new, highly anticipated "Servers Reselling" section, showcasing how seamlessly EasyDCIM integrates with WHMCS with the aim of empowering you to manage resellers for your dedicated servers through the invaluable assistance of automation.
The new marketplace consolidates all our extensions, including the freshly developed LDAP Authentication For EasyDCIM which handles the integration with the most popular LDAP directory services.
We've also made it easier for you to reach out to us with whatever's on your mind, and introduced a more user-friendly Help Center, fully integrated with our documentation. Moreover, the website now provides laser-sharp insights into each of the available EasyDCIM plans, guiding you even more thoughtfully to choose the perfect solution for your unique needs.
This is the cockpit of your EasyDCIM journey, and we've given it a complete makeover. Say goodbye to the old hassles – communication with us is smoother, license management is a breeze, and payments are a snap. We've also rolled out a new panel for affiliates – an exciting opportunity to join hands with us.
Our documentation reopens with a comprehensively redesigned look and feel, offering a wealth of detailed articles, insightful tips, and invaluable know-how. Go ahead and navigate through endless fresh screenshots elegantly presented in an easily accessible gallery. A custom search mechanism that we've tailored from the ground up ensures you spot precisely what you seek in seconds, and a revamped navigation system promises expedited access to vital information.
Moreover, you can now rate our articles anytime you feel like it using convenient buttons on the left-hand side. Your vote means a lot to us, even more than you might realize – it's a quick and effortless way to signal if our documentation is on point. After all, we're crafting it with one goal in mind: to provide all the answers you need!
For the tech-savvy adventurers, our API documentation has undergone a restyling for clarity and ease of understanding. It's your portal to unlocking the full potential of EasyDCIM's integration capabilities, now presented in an accessible format.
Completing this transformation wouldn't be the same without introducing our all-new Blog, equipped with modern layout and restructured filtering, and, perhaps most thrilling of all, full mobile compatibility. Why? Because we know you're on the move, and we want to be right there with you. Our central focus is to make your reading experience enjoyable and engaging – especially when it comes to following the path of the EasyDCIM growth.
With this extensive visual and functional evolution, this place is now your ultimate destination for all things data center: from dedicated release notes for every new EasyDCIM version to insightful guides, in-depth expertise, and industry-specific tips and tricks. It's more than just a blog; it's your Data Center Geeks Hub! ♥
Join the Journey!
We proudly invite you to take a mindful stroll through these transformative changes. Our revitalized website isn't just a tribute to EasyDCIM's genuine spirit of innovation; it's a testament to our commitment to making your user experience a one to remember.
Your feedback is our compass, and we eagerly await your thoughts and insights in the comments below. Together, we'll continue shaping the future of EasyDCIM, making it an even more extraordinary destination for our remarkable community.