Revitalizing our website was quite the adventure, but don't think for a second we've taken our eyes off the main prize – our control panel. On the contrary! Now that we have this sleek modern marketplace where you can smoothly browse all the extensions tailored for EasyDCIM, the timing feels just right to introduce you to something entirely new and outstanding: LDAP Authentication – the star feature of the latest EasyDCIM v1.9.7!
This just in: LDAP Authentication
Running a data center often means juggling a multitude of users on a daily basis. This involves setting up access permissions customized to each user's role. With LDAP in the mix, this entire process becomes as painless as it gets, not only saving valuable time and enhancing security standards but also streamlining the authentication by centralizing it.
Did you know?

LDAP was born in 1993 when a group of developers dedicated themselves to making accessing directories easier compared to the older Directory Access Protocol (DAP). They developed a protocol with fewer lines of code, making it a perfect fit for individuals using regular desktop computers.
The LDAP Authentication extension, in essence, connects EasyDCIM with the widely used LDAP directory services like Microsoft Active Directory for Windows and OpenLDAP for Linux. Its practical purpose? To make user and administrator authentication in EasyDCIM quick and trouble-free through the use of the trusted LDAP credentials.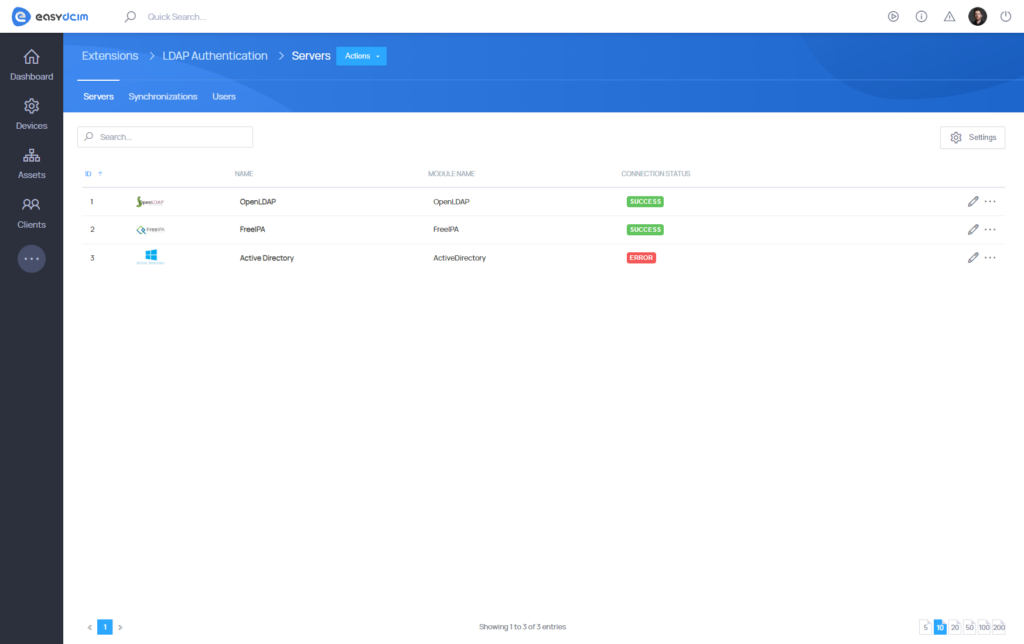 By handling synchronization jobs and choosing how often they occur, you're always in control, making sure everything syncs up just the way you like it for your team. Plus, in case of any updates in the LDAP directory, the extension will take care of syncing them up with EasyDCIM automatically. It's that simple!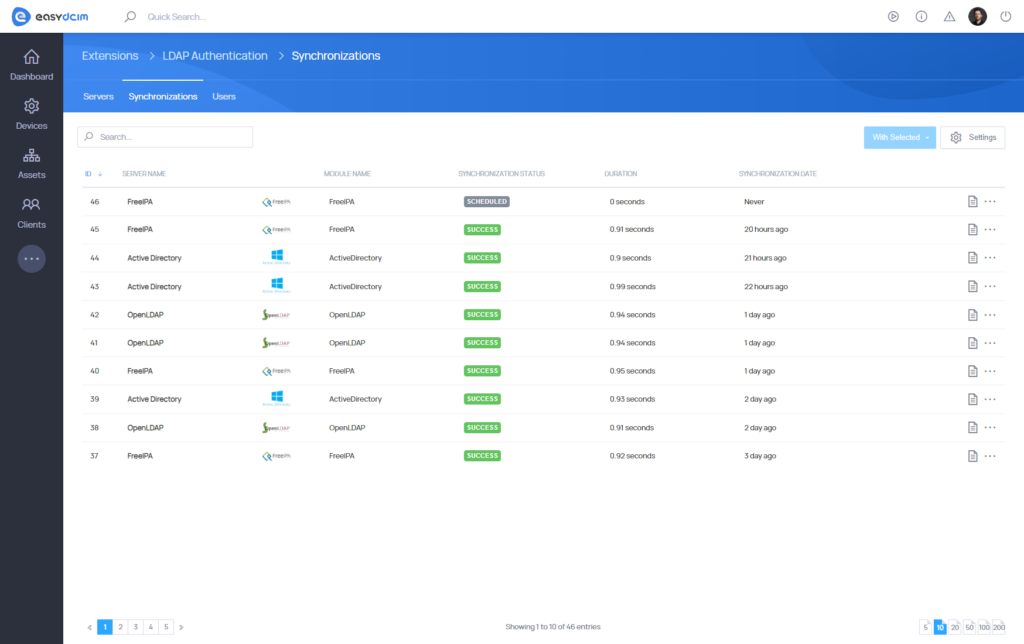 Meet the Bookworm
Debian 12, playfully nicknamed "Bookworm" after one of the less known Toy Story characters, has emerged as a serious challenger to Windows 11 in the race for the title of the best operating system. The last stable release of this Linux-based distro opens the door to a genuine alternative that puts power back in the hands of users.
An undoubted highlight in Debian 12's bundle of features is its reliable pledge to long-lasting support. Thanks to the collaborative efforts of the Debian Security and Long Term Support teams, Bookworm gets a comforting five-year coverage. This means you can trust Debian 12 to be your go-to for computing adventures, free from the constant rush to upgrade or switch to newer editions.
With OS Installation v2.0.3 released for immediate use, you are invited to benefit fully from a new template crafted specially for Debian 12, streamlining the stages of installation and setup for your added convenience. From picking your preferred time zone and language to effortlessly installing those crucial first-boot scripts – the extension got every step covered, and then some!
Maximizing productivity, one detail at a time
Before we wrap things up and encourage you to dive into the full changelog for a more in-depth look, let's glide through a couple of additional features in EasyDCIM v1.9.7 that simplify some of your daily rituals in managing a data center.
Mass server power control:
It doesn't get any easier than this: all you need to do from now on is select a bunch of rows in the "Servers" table, trigger the power action, either on or off, and watch the tasks get queued up for action. It's a real time-saver and a friendlier electricity bill, too!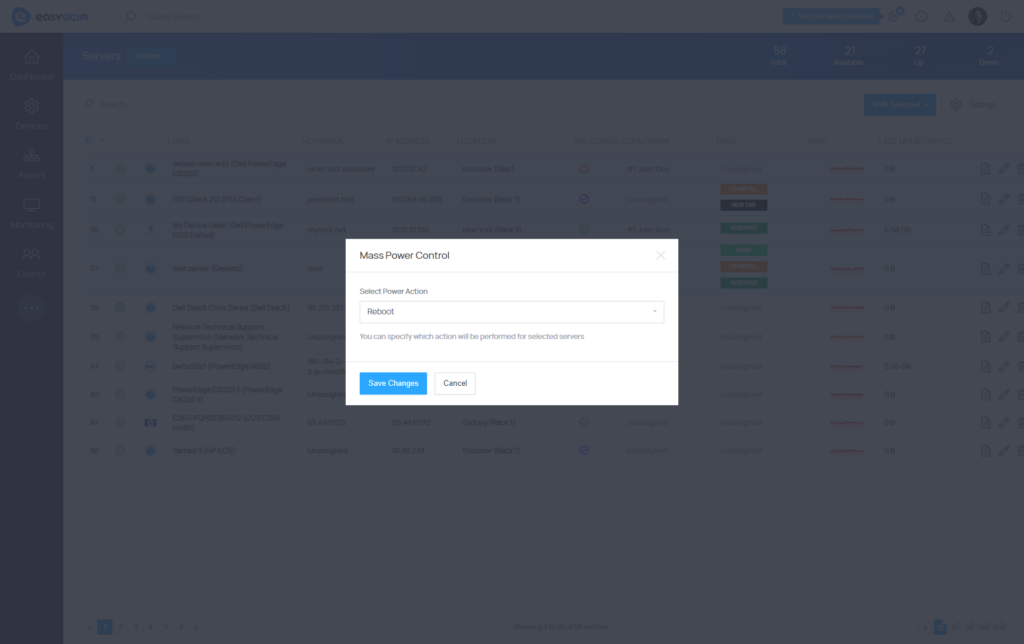 Seamless server swapping during order process:
Picture this – you've got an active order, and the dedicated server assigned to it encounters an unexpected hiccup. Yikes! But no worries – now you can swiftly swap it out. No need to cancel and re-order, just make use of the "Replace Asset" option. Easy peasy!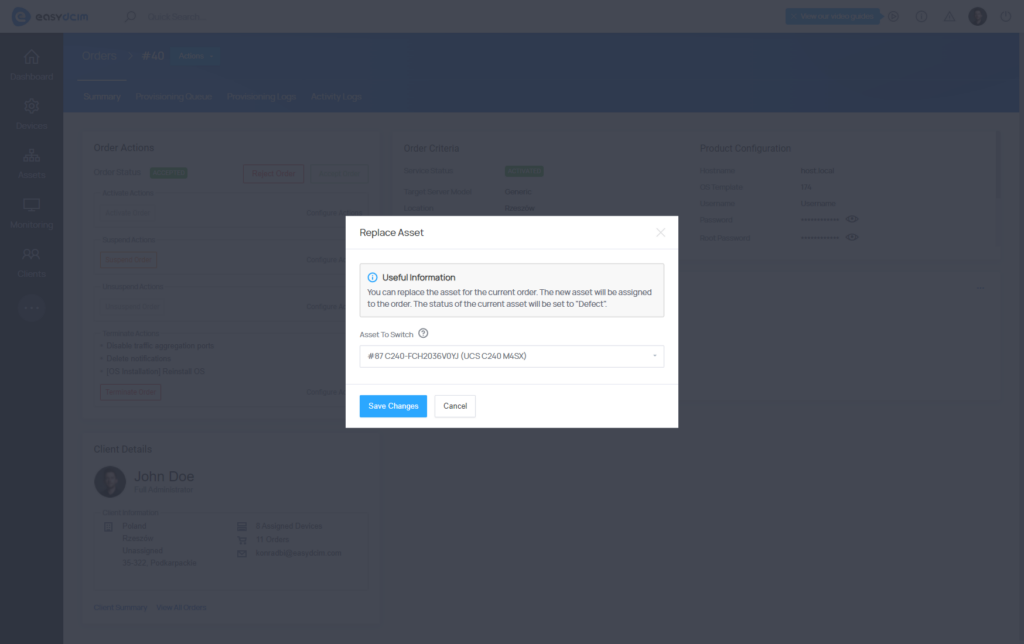 Now since you're clued in on all the major updates that have just landed in this release, we recommend taking a closer look at the complete list of changes to track all the charming little details that are still waiting to be explored!