You may have thought that in order to start experiencing the full potential of our ultramodern and feature-rich control panel for bare metal server provisioning, you would have to spare a lot of your precious time to go through an arduous process of configuration. This, however, could not be any further from the truth with Quick Configuration Wizard, which crowns the list of innovations delivered in the brand-new release of EasyDCIM 1.9.2!
Easy, for a reason!
Quick Configuration Wizard is meant to be initiated right after the installation with the purpose of taking you through the basics in just six simple steps.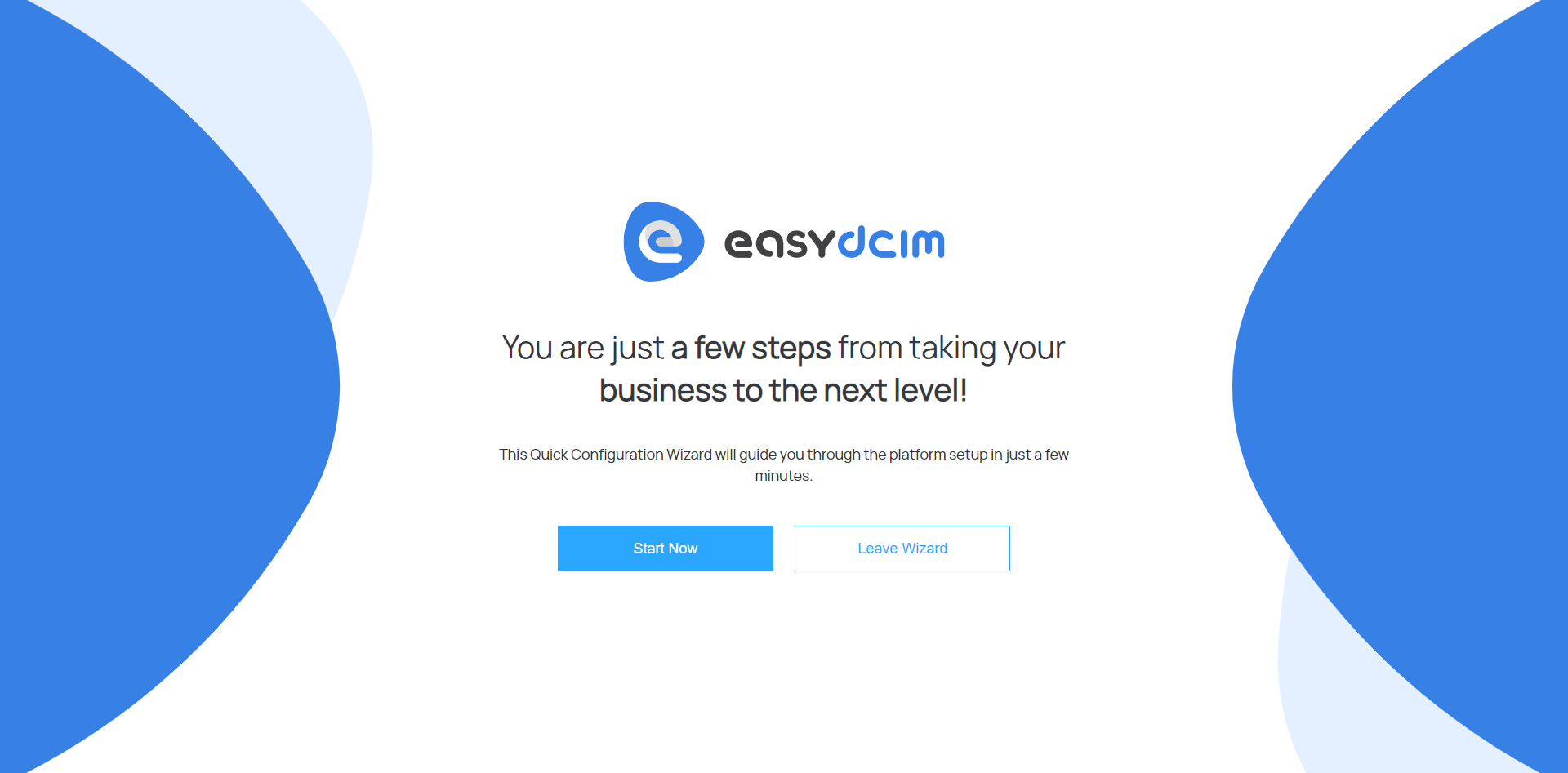 Each of the following actions is designed to take as much weight off your shoulders as possible, empowering you to kick off your EasyDCIM journey quicker and with less effort than ever!
1. General Configuration
Providing the company name, email address and password of the administrator.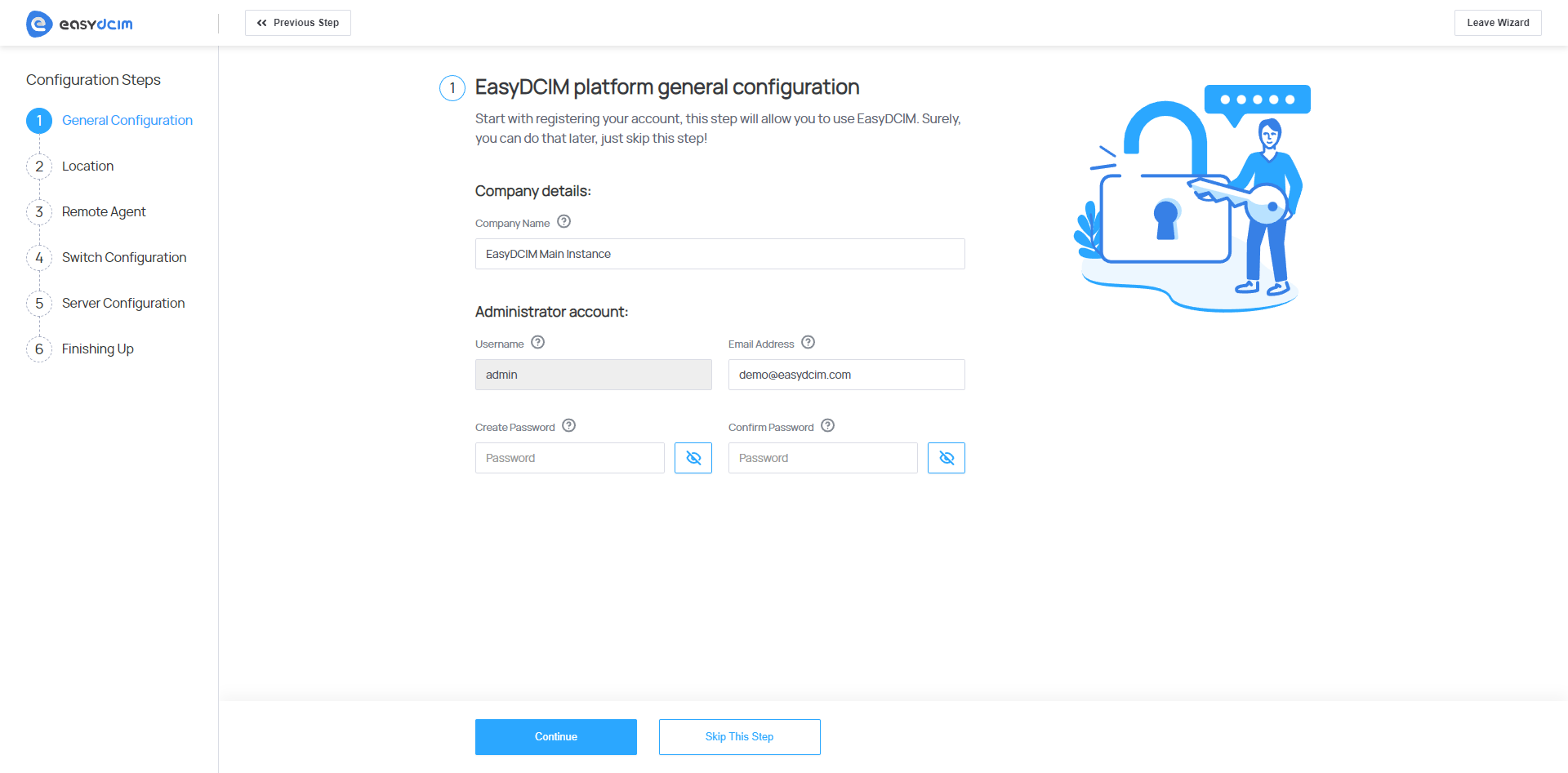 2. Location
Defining the first location and subnet configuration for the DHCP server.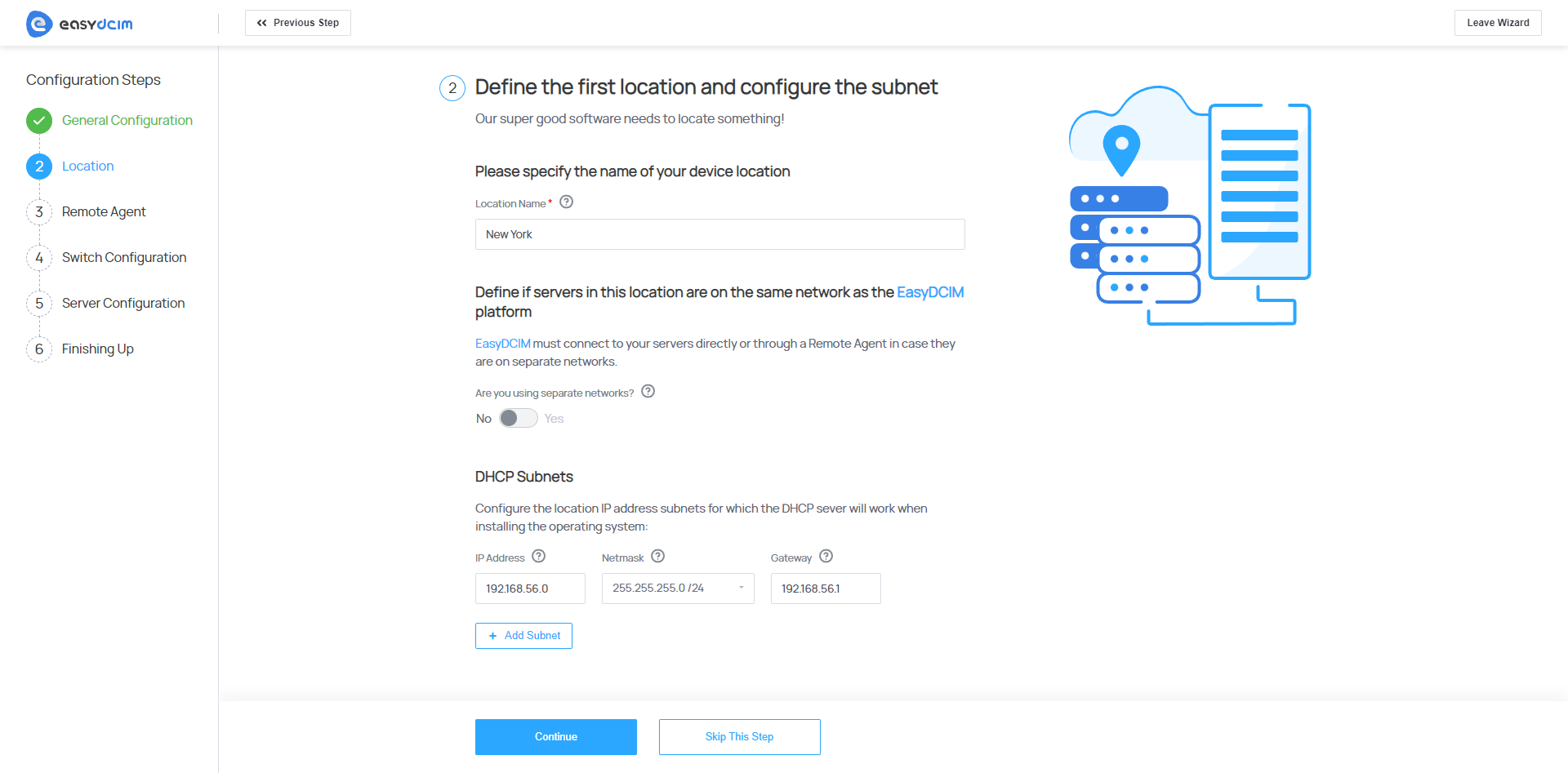 3. Remote Agent
Installing a remote agent in a location different than this of the main EasyDCIM server.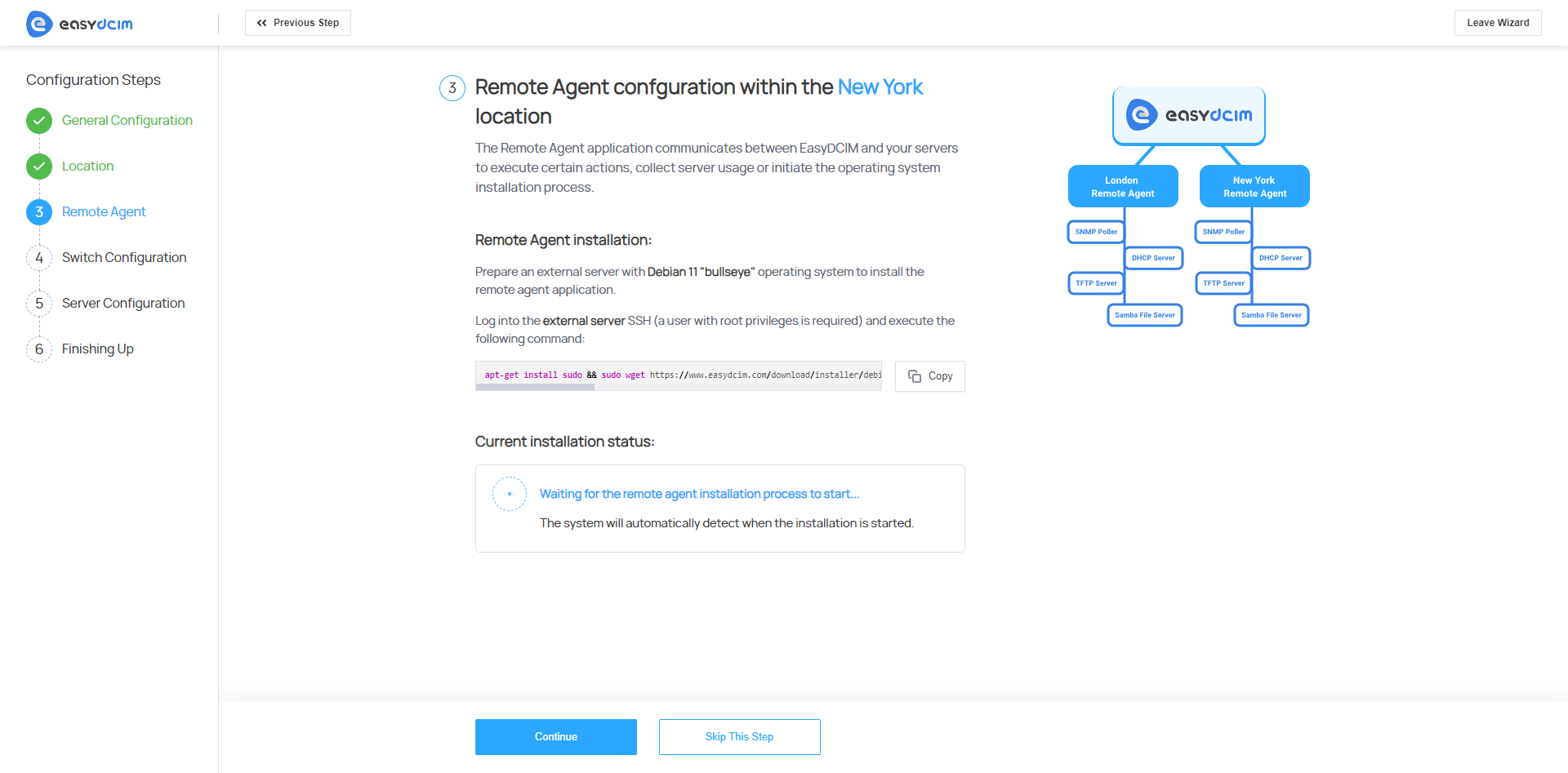 4. Switch Configuration
Detecting the first switch via SNMP protocol during the Auto-Discovering process.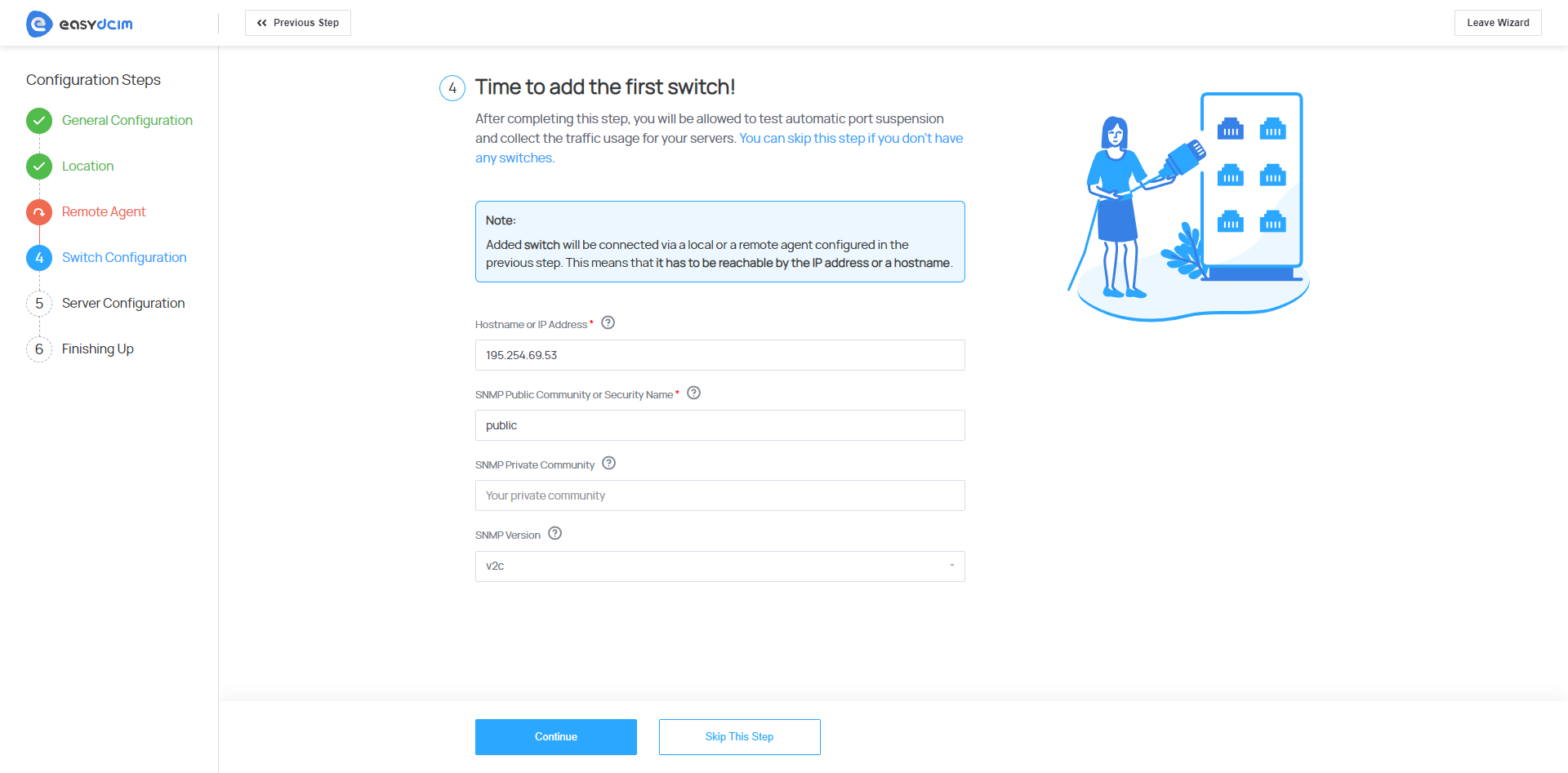 5. Server Configuration
Adding the first server with network configuration and IPMI access data.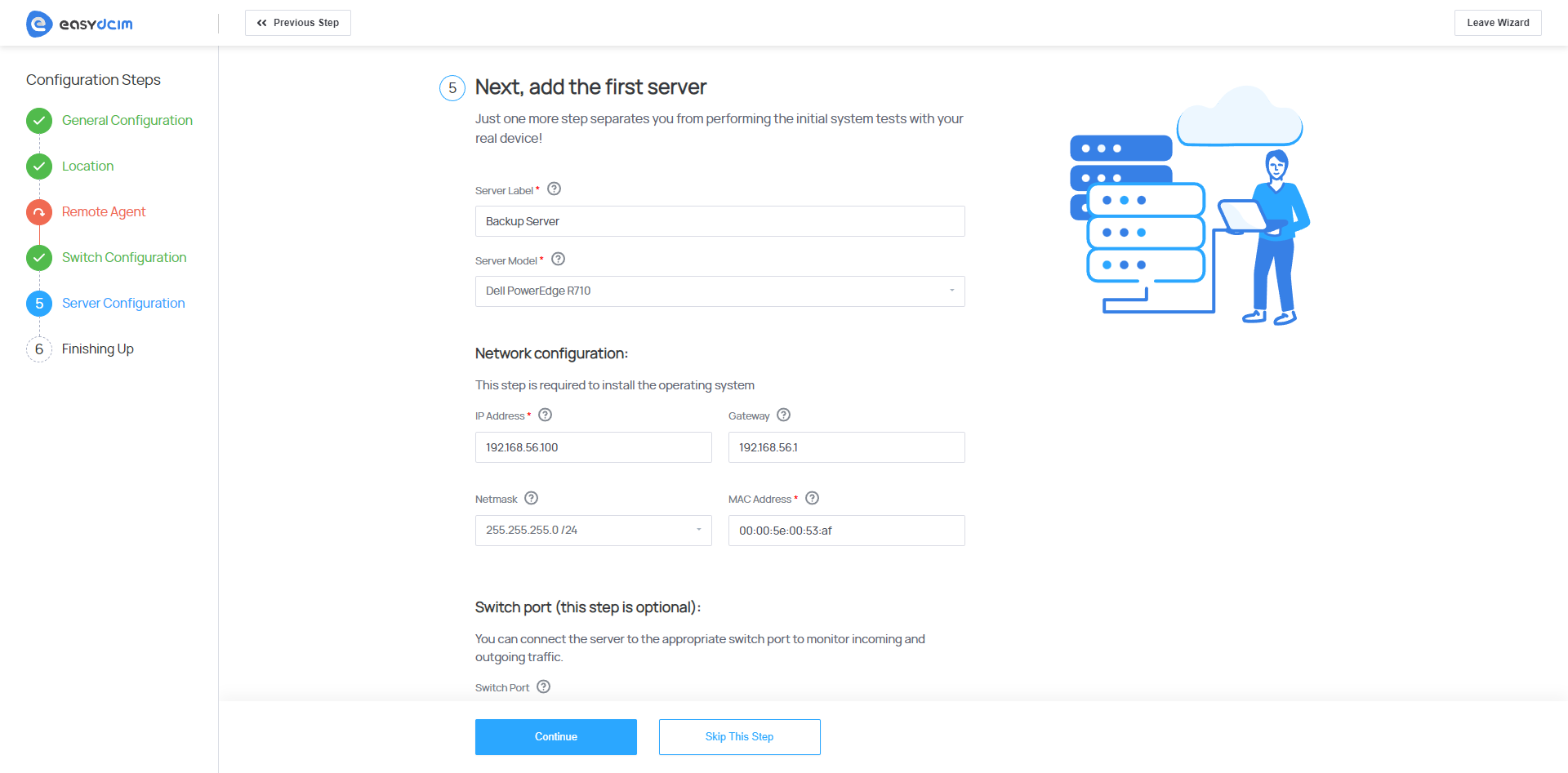 6. Finishing Up
And finally, validating the completed steps.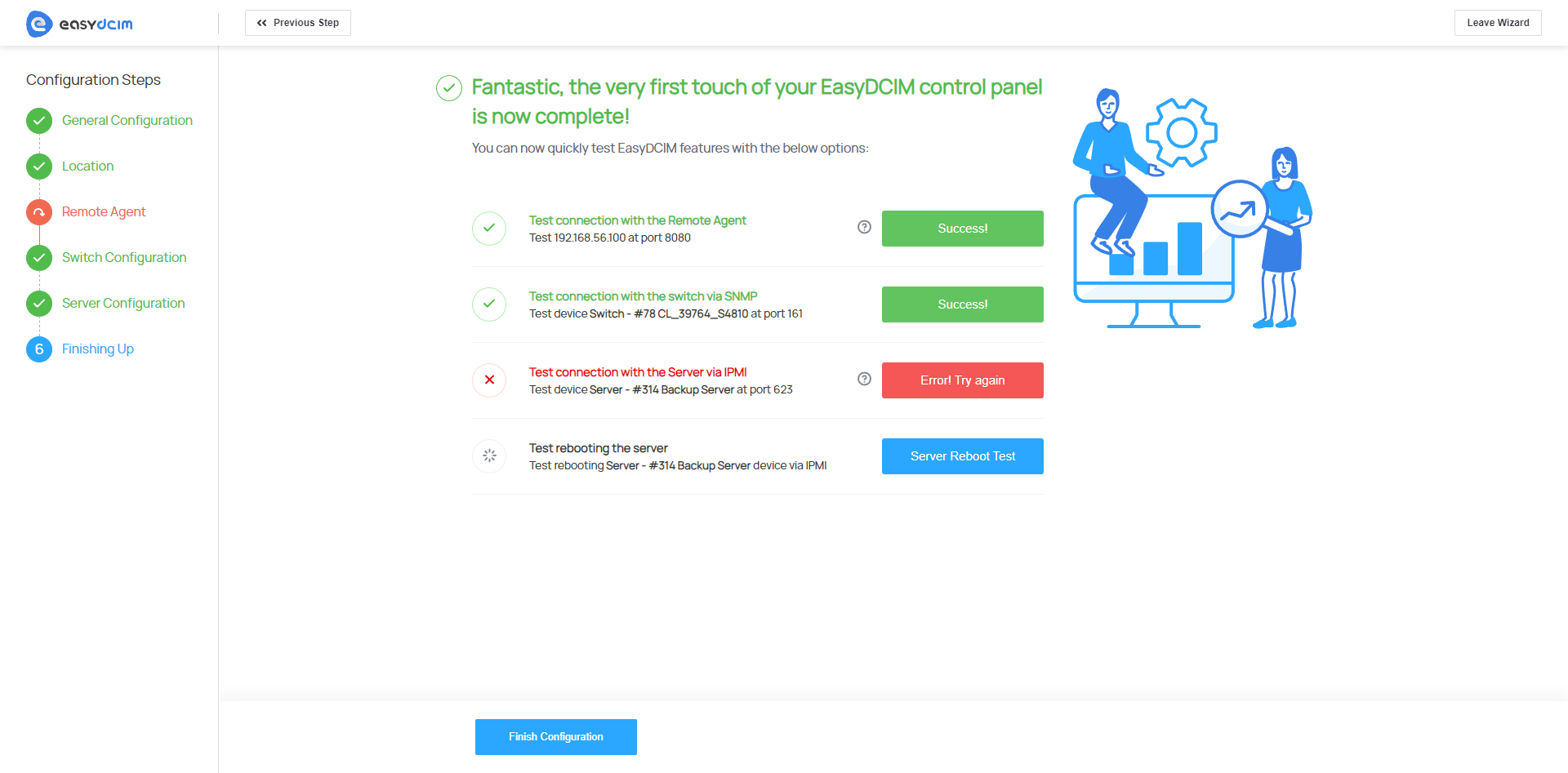 After rapid set up by means of the Quick Configuration Wizard, you will be granted the possibility to instantly try out the essential features of EasyDCIM, such as installing operating systems, rebooting the server remotely, or gathering data via polling!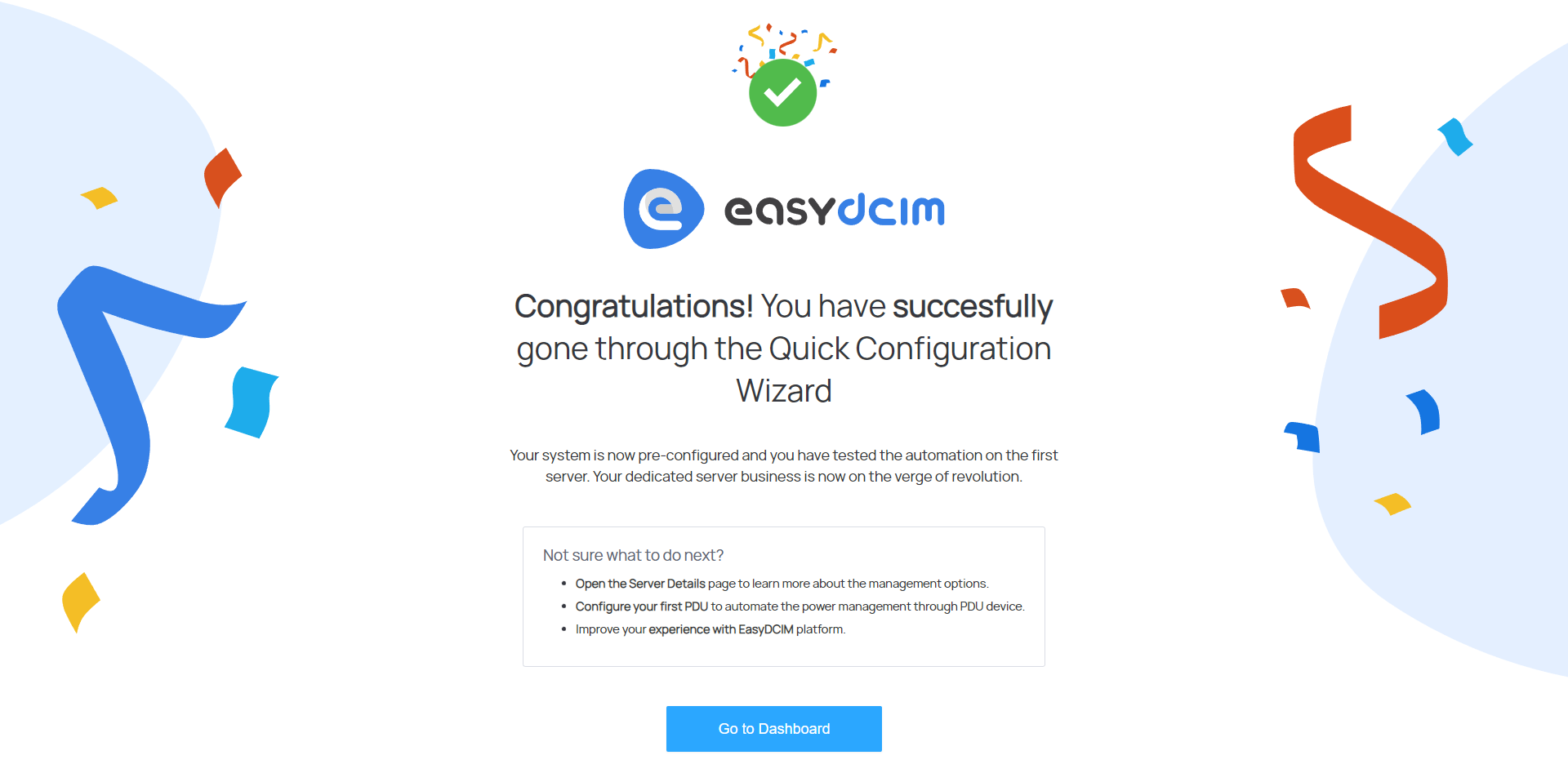 What's more, even after your journey with Quick Configuration Wizard has come to an end, you'll still be fully taken care of, as you can use a helping hand in setting up other EasyDCIM features at any moment later on. Just one click at the "Show Next Steps" button placed conveniently on your Dashboard, and you know exactly what else to pay attention to!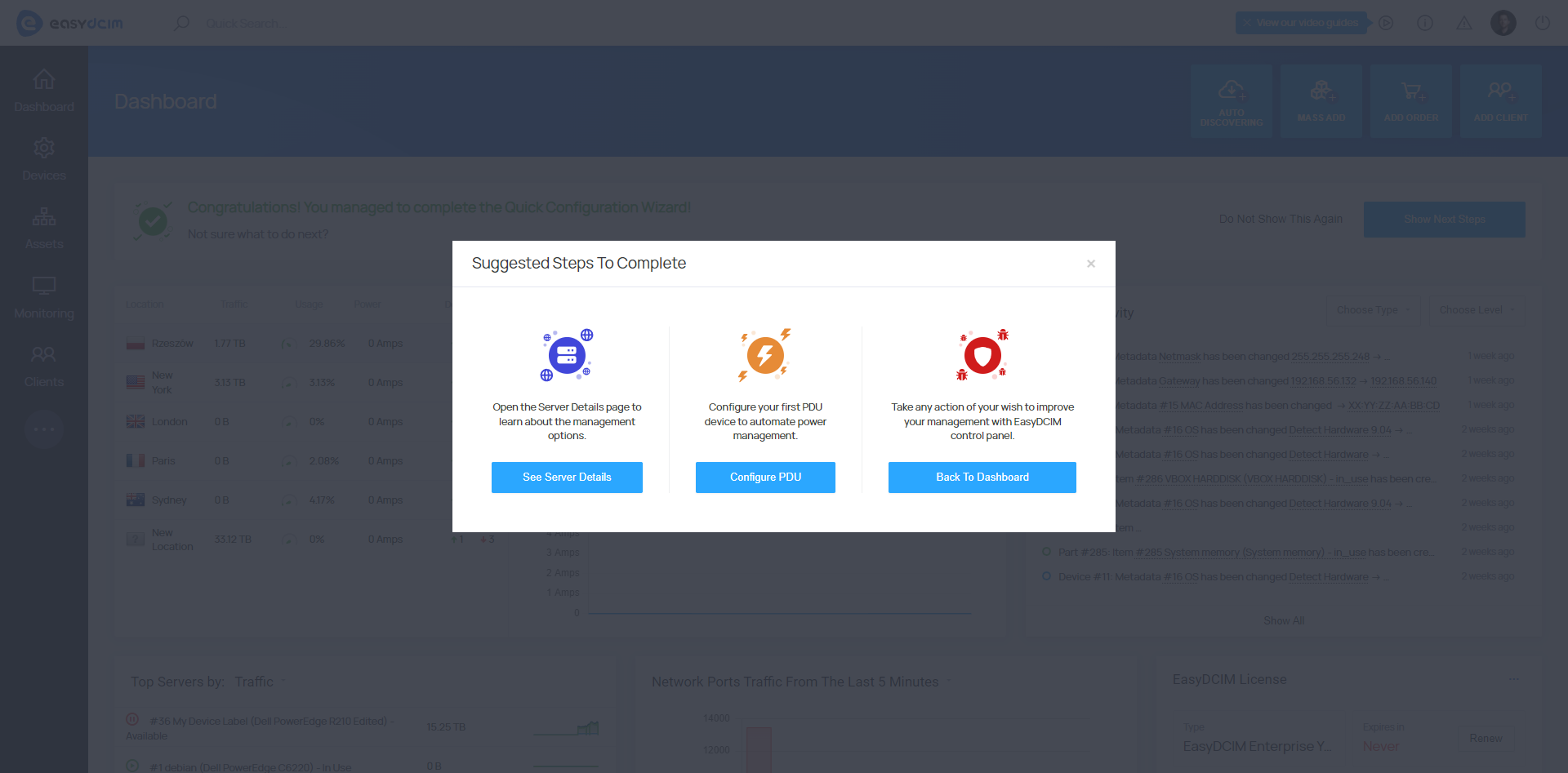 The more, the merrier
Stretching the choice of supported system templates with each new version of EasyDCIM is slowly becoming our trademark. The 1.9.2 update could not be any different! The OS Installation extension returns in the 1.9.8 version, ready to deal with the installation of Rocky Linux 9 and Ubuntu 22.04 LTS in a fully automated manner!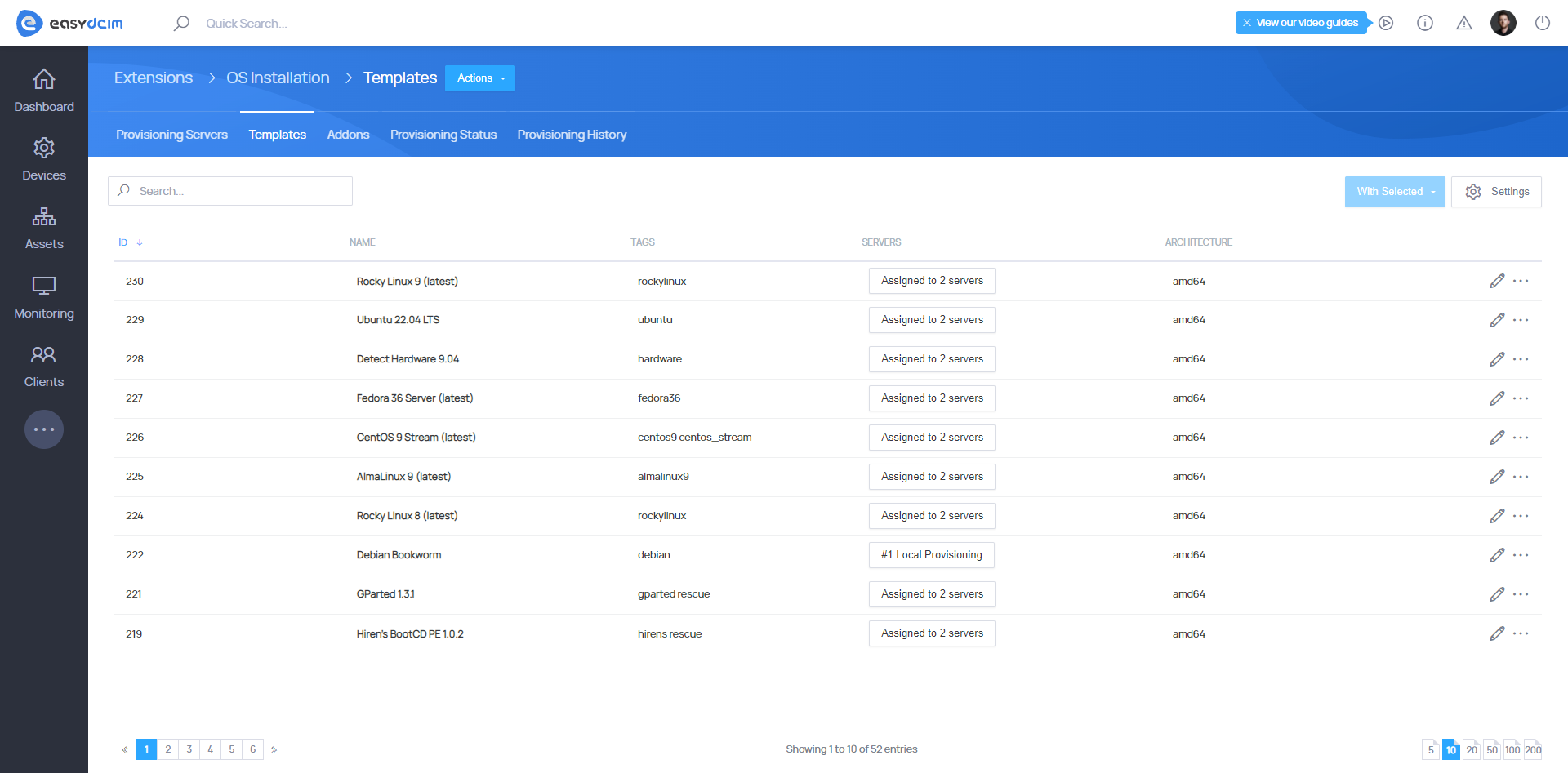 And to leave zero room for wondering: all crucial processes, from the time zone and language configuration to the execution of first-boot scripts, are handled flawlessly via EasyDCIM, just as in all previously delivered additions. With such a wide variety of templates at hand, do you already know which one you'll go for?
New drivers on radar
IPMI Integration For EasyDCIM will bring you even more levels of automation, with the updated 1.4.4 version, which introduces new drivers for the JAVA KVM console: the first dedicated to Huawei iBMC 5, and the second to Inspur devices!
Migration already ticked off?
We wouldn't be asking whether you've migrated to Debian 11 yet if our top priority wasn't making sure you can fully benefit from Quick Configuration Wizard as well as the remaining features of EasyDCIM v1.9.2. After all, only with "bullseye" installed can you gain access to all kinds of advantages this and future updates have to offer!
Worry not, as you won't get left confused not knowing how to go through this process – we offer step-by-step guidelines, as well as a completely free possibility of our team upgrading your current EasyDCIM server for you!
With excitement at its peak, fueled by an overwhelming sense of adventure, make your next stop at our website and see the full changelog of EasyDCIM v1.9.2, for a brief, straight to the point description of the spanking-new Quick Configuration Wizard and the summary of other no less impactful changes.