While growing the variety of EasyDCIM tools with ever more advanced solutions is an explicit goal, it is of equal weight for us to keep its equipment invariably easy in navigation and intuitive in regular use. But what exactly does it take for a control panel to be user-friendly? On August 25th, EasyDCIM makes a successful comeback in a 1.8.0 version, ready to bring some next-level thinking to the table, together with its newly minted "Locations" and "Floors & Racks" sections.
Let's unfold the map!
As the user experience officially becomes a ranking factor in Google search results, it no longer comes as a shock that the times of text-heavy content are over (good riddance!), replaced by a way more digestible model of data visualizations. It was therefore only to be expected that we tap into this indisputable trend sooner rather than later. And voilà!
The grand debut of two new sections of EasyDCIM is a tribute to an effortless, and visually aesthetic management of locations, floors and racks. Everything from generating a building view to placing racks in a grid of selected sizes is now based on easily navigable graphic representations.
Hand in hand with the world map showing the exact location of each server, switch or PDU device, the "Locations" section invites you to scan statistics on either all or single locations in the system as well as traffic and power usage presented in graph form.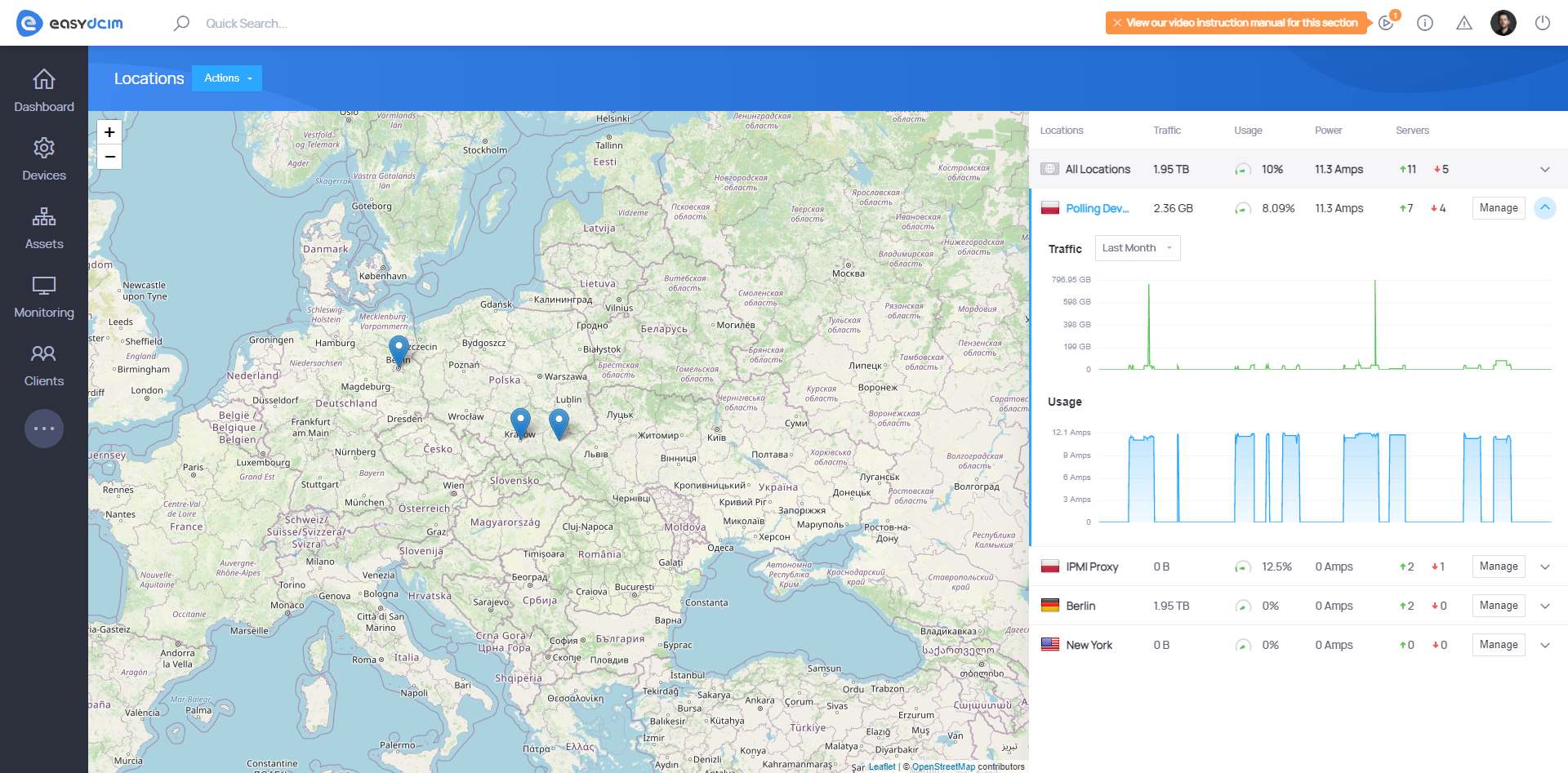 The "Floors & Racks" section features the building's 2D view where you can create a grid for each floor and locate rack cabinets in any preferred position with no more than just a few clicks.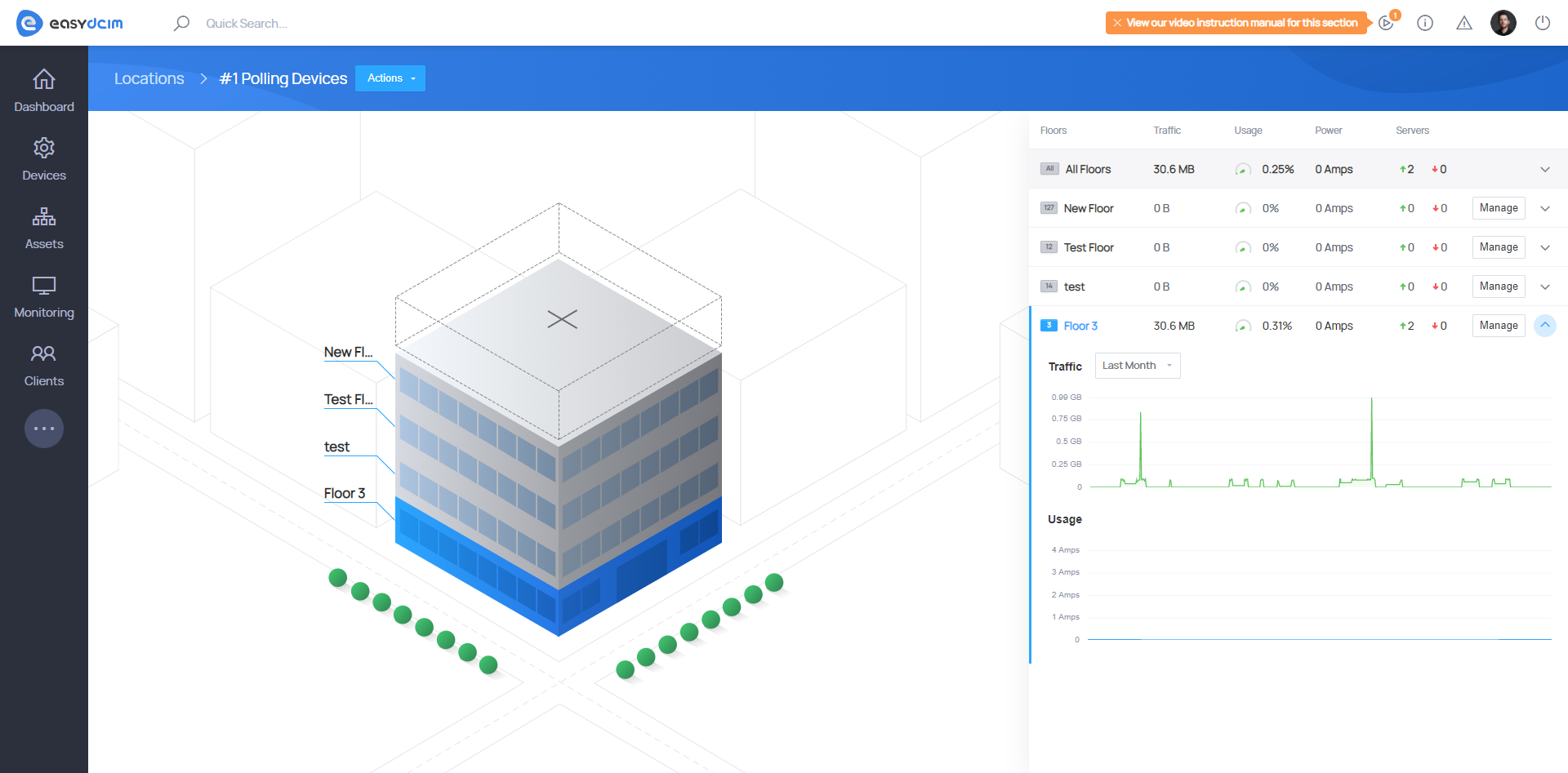 This one is also equipped with a handy set of graphs and figures to let you quickly drill down into specific pockets of information on floors and racks.
No such thing as too much choice
OS Installation For EasyDCIM extension continues to be more and more versatile with its collection of system templates. To satisfy a popular demand, its 1.9.3 edition unlocks the automatic installation of:
1. Rocky Linux 8 – named after one CentOS co-founder (Rocky McGaugh) and kicked off by the other (Gregory Kurtzer) in direct response to Red Hat's strategy shift towards CentOS Stream, Rocky Linux has proven instantly popular as a free, "bug-for-bug compatible" drop-in replacement distro for the RHEL distribution.
See Kurtzer himself praising the project on LinkedIn:
2. Oracle Linux 8 – aspiring to the title of the fastest-growing Linux distribution on the market, Oracle Linux is a freely distributed open source OS that is fully compatible – both source and binary – with RHEL, and suited to enterprise-class workloads.
If you are eager to learn some salient facts about other operating systems hailed as the most functionally capable to fill the void left by CentOS, this article is your next go-to guide.
More functional powers on tap
Just in case you are wondering, that is still not all EasyDCIM v1.8.0 has up its sleeve. Go ahead and dig around for more updates packed into the following extensions:
EasyDCIM v1.8.0 with its brand-new layer of graphics is much more than just pleasing to the eye. It improves scannability and reduces mouse clicks by providing a high-level snapshot of the absolute essentials – locations, floors and racks, with at-a-glance views of how much data transfer is used. And that's all at a fraction of the time it would take to get the same meaning from just the numerical data! So, are you ready to take your data center beyond the bare figures?