The road so far…
It was exactly on 25th June 2015 that a team of software geeks looked at their work with satisfaction and concluded: our all-embracing control panel is officially ready to launch and change the life of data center owners forever. And this is how the legend of EasyDCIM was born!
It is to hard to believe that 3 years have passed since that very moment! We came a long way. Not always smooth and not always paved with spectacular victories, but definitely fruitful in the end. Was it worth it? Looking back at what we have achieved, I think we can all unanimously agree that EasyDCIM was the best thing that happened to us. And, hopefully, to all data centers using our software which is setting ever new trends in the market. EasyDCIM has been continuously evolving throughout these 3 years and will surely keep doing that for many, many more days to come. We are strongly driven to action when seeing how many businesses are already using our tool, and how massive feedback we receive from you. It means a whole world to us because with your help we do not have to wander in the dark. We listen, deliberate on each and every one of your suggestions, assess their feasibility, and when possible – we implement them.
One of the most game-changing functionalities which settled in EasyDCIM for good as per your request was the Automatic OS Installer built in our recently released 1.5.0 version. To you, it is a great opportunity to set up a series of operating systems in one fell swoop and without the need to use any third-party software. To us – a wonderful tribute to our hard three-year work.
Another noteworthy features added in response to your growing needs include Network Auto Discovering which lets you save considerable amounts of time by automatically detecting all devices within a given network through the SNMP protocol, and Revision History section storing all kinds of device-related information conveniently in one place.
Some other prodigious additions comprise:
Remote KVM console for HP iLO3 devices
Remote KVM console for American Megatrends devices
Power Control Settings – definining scope of remote control over the device status, choosing primary and secondary method of device restart (IPMI or PDU)
PDU Drivers – support for Enlogic & Cyberpower ATS devices
Added capability to export parts assigned to a device
Possibility to upload files for each element from the inventory
Means to export all items at once
As you can see, we have done so much already with your support. And there is still a lot up our sleeve, so stay tuned – this second part of the year will be really exciting!
Let's make a toast for future to come!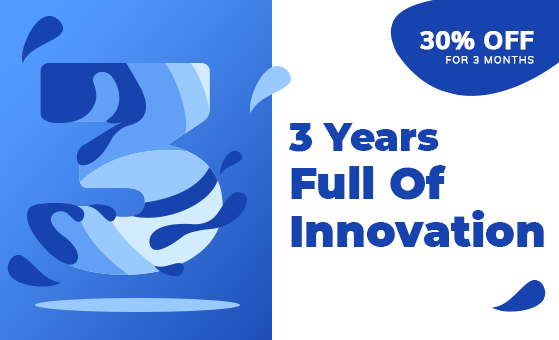 An anniversary party without presents is no party at all so let′s see what we have got here!
Are you our long-established customer seeking to upgrade your pricing plan?

When in touch with us, use the "<3 EasyDCIM" slogan, and we will arrange some exclusive deal specially for you!
Still not one of the EasyDCIM happy users?

Contact us and use "<3 EasyDCIM" in your message's subject to pay 30% less for any pricing plan for the first three months!
Our success is your success so join the celebration and make it one for the books!
Needless to say, we simply rejoice great parties. That is why our buoyant promotion is going to last not for a couple of days, but until 31st August inclusively!
See also new EasyDCIM v1.5.1 with the Automatic Windows Server OS Installer!