Like most businesses, regardless of their sector, web hosting companies are always looking to increase their operational efficiency and reduce costs. This is where automation comes in, as it can help with both of those goals. Automation speeds up processes while reducing the possibility of an error occurring. This frees up employees to focus on core tasks instead of necessary but low-intellect work.
While there are many tools on the market for automating dedicated servers, not all of them are well suited to your needs. Some are likely to be too expensive. Other ones are technical in nature and require an expertise too comprehensive for most individuals. There are also ones that still will not include the automation functionality crucial for your web hosting business to continue growing and reaching its goals.
In this blog post, we will talk about four different automation systems available to web hosting providers offering dedicated servers: WHMCS, WISECP, Blesta and HostBill. While this list admittedly does not cover all available ones on the market, it does represent the options that we find to be the best fit for small and mid-sized companies looking to add automation without high costs or complexity. We'll cover what these four tools do and how they compare so you can find the perfect server automation software for your company!
Recommended Automation Tools for Web Hosting Providers
WHMCS
To start, let's talk about the best-known and most widely used management platform in the web hosting industry: WHMCS. The acronym stands for Web Host Manager Complete Solution and it is considered one of the most popular options available to you as a business owner. WHMCS has an integrated billing system that can help with your day-to-day tasks such as invoicing and accepting payments from users in addition to a suite of tools for managing your dedicated servers.
WHMCS includes an industry-standard billing platform with many powerful features, but it's also known for being slightly more complex to implement into your business workflow. WHMCS can require a lot of customization and configuration for some users. This means you'll be spending more time on the backend to make sure everything is working properly. However, once WHMCS is operating correctly for your web hosting company, it is undeniable that it provides the functionality necessary to successfully automate a number of key activities.
One aspect should be kept in mind: WHMCS charges an annual license fee for each user that accesses it, so if your business has a large number of customers this can add up quickly.
WHMCS standard features:
Integrated billing system
Automated server provisioning system
Dedicated server management tools
Invoicing and accepting payments, including support for recurring payments
WISECP
WISECP is an automated billing system that works best for smaller web hosting companies. It includes a suite of tools for managing dedicated servers and can be installed on any operating system. WISECP also has an API so you can integrate it with all sorts of software products without having to worry about compatibility issues, or hiring programmers to write custom code, just because they're not using the same platform as you are. This allows businesses to use multiple systems simultaneously while still being able to sync data between them seamlessly. The API even lets developers export data from WISECP into other applications if they want to.
WISECP is a one-stop-shop for managing everything that running your business involves. It's a good choice not just for web hosting providers but also security firms and other types of business that need to automate the management of their dedicated servers. WISECP offers comprehensive solutions for billing, customer service automation, CRM integration, chatbots, and more.
WISECP standard features:
File manager
Domain manager
Device configuration tool
Account creation
Rebuild, restart, start, and shutdown functionality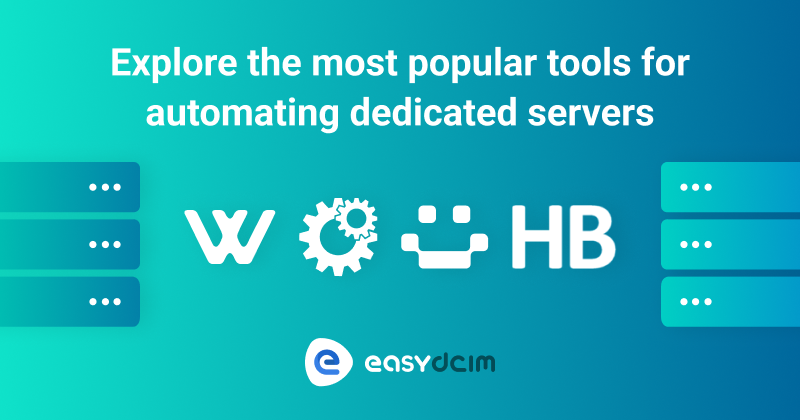 Blesta
Blesta is an automated billing platform that includes an integrated customer log-in with their own portal. It also provides a software to help you manage your dedicated servers including file manager, domain manager, and server configuration. Another stand-out feature is that it can be installed on any operating system.
Blesta is another powerful system that service providers and hosts use to simplify their workflows. It has everything WISECP does plus a few more tools like billing automation, recurring invoices, and automated provisioning. It also integrates with WHMCS so you can get an even more powerful single sign-on experience where users only need to log into one system and they're automatically signed in on all other areas of your business too.
Blesta includes a complete billing suite that helps user companies run efficiently and save both time and money.
Blesta standard features:
Integrated customer login with their own portal
Suite of tools for managing machines
File manager
Domain manager
Support platform for managing customer inquiries
HostBill
HostBill is a full-featured billing and CRM solution that gives you everything you need to run your web hosting company. You can easily manage customers, invoices, recurring bills, warranties and more, all in one system with no extra add-ons required. HostBill also integrates seamlessly with WHMCS so if you're already using it you can get the same benefits that WiseCP and Blesta offer.
Perhaps the best thing about HostBill is how affordable it is to start up.
HostBill also has an API that enables developers to integrate multiple systems simultaneously without having compatibility issues or hiring programmers to write custom code just because they're not using the same platform as you are.
HostBill standard features:
Automated billing
Device and domain automation
Client support and management
Client self-service portal
The Right Automation Tool for Your Web Hosting Business
So how do you choose what's right for your business? As with any other software consideration it is important to understand your existing technology stack as well as the goals you are trying to reach. Automation for automation's sake is unlikely to succeed. Have a plan for what challenges you are trying to address and how new automation will impact, and hopefully improve, not just your business but your customers' experience as well.
Automation greatly reduces costs, by removing manual tasks from employees' daily routines and allowing them to focus on more productive activities instead, which is its most important benefit. In addition, automation makes it easier for companies to streamline their business processes, which is another way of saying that it helps them save money.
If you are looking to add automation to your web hosting company, the four above mentioned options are worth considering. While each has its strengths and drawbacks, all four can help save time and streamline processes in your business. Our team at EasyDCIM is proud to work with WHMCS through EasyDCIM Dedicated Servers For WHMCS and EasyDCIM Colocation For WHMCS modules officially maintained by ModulesGarden. Simultaneously, the platform supports a number of other systems designed to help growing web hosting companies. Interested in leveling up your workflows with the extra potential of integration between EasyDCIM and such esteemed automation tools as HostBill, Blesta, WISECP or any other suitable alternative?