Many web hosting providers wonder if selling dedicated servers is a good idea. On the one hand, dedicated server sales generate more revenue per unit than shared or VPS hosting. On the other hand, the technical knowledge and financial investment necessary to offer dedicated servers can become an issue if done in a hurry. As with most things, there are trade-offs with selling dedicated servers. Calculating if this product fits your business offer requires more than a simple checklist. Concentrating on your business goals, existing resources, and ideal customer set is crucial when considering whether or not to sell dedicated servers.
Selling dedicated servers vs. selling shared hosting
Dedicated servers require various investments, buying or reselling hardware, expanding to a clientele that will spend more money, and technical ability that is different than spinning up a VPS and selling small chunks via inexpensive shared hosting. This post will address what goes into adding dedicated servers to your hosting business and answer the question: "Would it be difficult for my web hosting company to sell dedicated servers?" From technical know-how to marketing, we will explore how to sell dedicated servers and help determine if this exciting product makes sense for your next venture.
Requirements of selling dedicated servers
Technical know-how required
Unlike virtualized technology where the web hosting provider's responsibility often starts at the hypervisor, with a dedicated server you may also be responsible for the hardware itself. To sell dedicated servers you will need to have or gain access to a resource with deeper technological expertise than if you are only selling shared hosting. In most cases selling dedicated servers means understanding the physical machines themselves as well as their connectivity, power, and security.
Investments and resources
Selling shared hosting is fairly straightforward: set up a VPS and WHM along with a simple website and you have a fledgling web hosting company. Selling dedicated servers requires resources and investment into more powerful and more expensive hardware. Reseller programs from web hosts do provide access to dedicated servers if you do not want to purchase or lease your own hardware, but the investment in time and resources to sell them is significant.
Marketing to a different clientele
The customers seeking out dedicated servers search for something completely different than those choosing shared or even VPS hosting solutions. As the name implies, dedicated servers mean not sharing any server resources with other tenants. That means a higher price and thus a different set of customers than those used to paying a few dollars a month to host a personal website or blog. Dedicated servers typically cost well into the hundreds of dollars per month per server. Crafting a message and marketing plan that resonates with this type of buyer is key.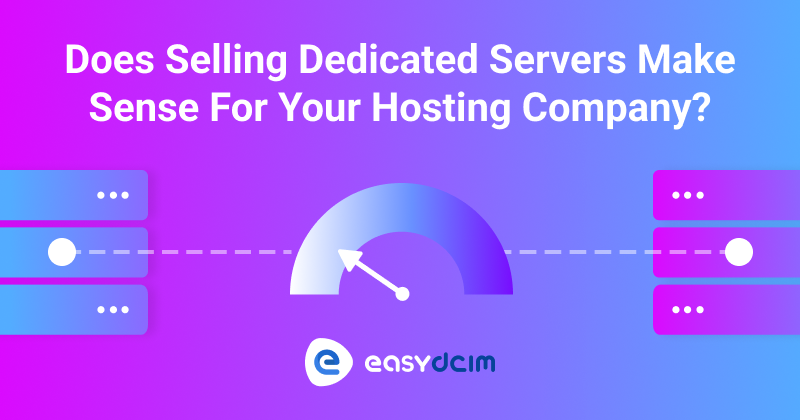 Benefits of selling dedicated servers
Dedicated servers provide upsell opportunity
While technical know-how, more resources, and different marketing can be the hard parts of selling dedicated servers, there are some significant and worthwhile benefits as well. The most obvious one? Having a better, higher-performance solution for existing customers as their hosting needs grow. Most web hosting providers know the awful feeling of a customer leaving because the provider no longer has the product the customer needs. Dedicated servers provide a logical upsell path that reduces churn, increases revenue, and keeps customers happy for the long haul.
Dedicated servers cover a wider range of customer needs
Just as dedicated servers offer an opportunity to generate greater revenue and reduce churn, so too do they offer a way to address a wider and more varied range of customer needs. For example, imagine you have a business-class customer that chooses to invest in a new ERP system that requires a dedicated server. If this is not part of your product catalog then you run the risk of losing some or all of that customer's web hosting business to a provider that does offer dedicated servers. By offering this technology your hosting business becomes a viable option for almost all clients across industries with various hosting needs.
Dedicated servers generate more revenue… and profit
It is wonderful to have a natural upsell path for existing customers. It is also great to cover a wider range of customer needs. Another excellent potential outcome aligns with your web hosting company's goals: generating more revenue. Dedicated servers command a higher price point which can positively affect your business in many ways. A solution that generates hundreds or even thousands of dollars per unit of profit is considerably more profitable than shared hosting which can generate only a few dollars of profit per month per unit. Selling dedicated servers means you need fewer customers to reach similar financial goals and opens new areas of opportunity for your business.
What you need to sell dedicated servers
Despite initial assumptions, selling dedicated servers is not complicated once you understand what you need to be successful. Additionally, the benefits of selling these can substantially outweigh the challenges, particularly once you get your dedicated server offerings out to the market for the first time. In the most basic sense, you need three things to successfully expand your business offer to new and existing customers.
Dedicated servers through purchase, lease, or reseller agreement
First, you will need access to dedicated servers. In some cases, it makes sense to purchase or lease servers and take responsibility for their complete management, maintenance, and security. However, if you are new to selling this solution then we would suggest finding a reputable web hosting provider with a reseller program you can join. These programs typically include a generous gross margin for you when you resell a dedicated server. Additionally, reseller programs often leave the provider responsible for power, connectivity, and physical security for the dedicated servers. This means less for you to handle while still recognizing the benefits of selling this new solution.
Software to manage dedicated server automation
Next, a number of software offers including EasyDCIM can help automate a lot of the technical aspects of offering dedicated servers. For example, inventory counts and server provisioning can be handled by EasyDCIM. Tools like WHMCS and HostBill can help with billing. In fact, most of the actions necessary for the management and maintenance of your dedicated servers can be addressed with software. The right software can completely remove the need to do anything manually when it comes to the dedicated servers you are offering.
A marketing plan to target new and existing customers
Finally, to succeed in selling dedicated servers you will need a marketing plan or strategy to promote this new addition to your offer. Email newsletters announcing and promoting dedicated servers to existing customers can be very effective. Otherwise, the marketing channels you are already utilizing can be excellent for promoting dedicated servers, you simply have to fine-tune the messaging a bit. From targeting potential buyers with larger budgets to sharing potential use-cases where dedicated servers are the best option, different messages and audiences can lead to a significant increase in sales.
Difficult or not? The conclusion
Selling dedicated servers can feel difficult but in reality, it is not complicated in the slightest! With essentially the same amount of hard work as selling shared or VPS solutions, you can find success selling this higher-end solution. The challenge emerges when gaining access to the servers themselves, managing technical requirements, and getting the word out. Thankfully there are straightforward solutions for each of these.
The decision if your business should offer dedicated servers ought to be driven by your business goals and the amount of time and attention you can offer to make such an initiative a success. To learn more about how automation software, including the EasyDCIM platform, can make selling dedicated servers easier for you, feel free to reach out to us. We would love the chance to work with you as you begin offering dedicated servers to both new and existing customers.