Every business owner experiences it to some extent – the inflow of so much data, that it can become practically impossible to keep up with the constant development of your enterprise. Well, it doesn't have to be this way, and certainly not with the latest EasyDCIM v1.9.4 and the spanking new addition of Email Summaries, which will ensure you stay on top of your time-consuming duties better than ever before!
Vital insight now at a single click!
There must have been many situations with unfavorable circumstances which you found yourself in, not allowing you to conveniently and, more importantly, quickly gain access to information about what's going on in your system. From now on, you can happily relax and stay up-to-date by having every piece of news handed to you not exactly on a plate, but in the form of personalized Email Summaries.
Not every piece of data bares the same importance, so it is entirely up to you which ones should be received, and how often. Daily, weekly, monthly – however you like! With 7 widgets to choose from, you'll be able to highly customize your email notifications, including exactly what you want to take a closer look at. So, what are the aspects EasyDCIM can let you know about?
| | |
| --- | --- |
| Location Statistics | Presents information on all locations, including statistics on data and power consumption, rack occupancy and server availability. |
| General Statistics | Includes data on new orders, devices and parts, as well as completed OS installations, server reboots and updated devices. |
| New Orders | Shows the details of each order, including the customer data, order date and its status. |
| Top Servers By Traffic | Contains information on servers that consume the highest data transfer amounts. |
| Top Servers By Uptime | Indicates the servers that stay active the longest. |
| Top PDUs By Usage | Lists information on the PDU devices that consume the most power in Amps. |
| Top Worst Devices By Polling Time | Displays a list of devices, for which the data polling process takes an unusually long time. |
This is nowhere near the end of customization possibilities, as you are also empowered to personally select the administrators that will receive these email messages, perfectly enclosed in a brand new, modern template that ensures clarity and accessibility.
The range of opportunities widened
Say hello to OS Installation For EasyDCIM 2.0! This eagerly anticipated update integrates well with new versions of our system templates to allow the automatic installation of Vmware ESXi 8.0 and Oracle Linux 9, as well as the freshly added VzLinux 8, an environment that has not been previously supported! Each of them successfully handles the crucial processes, such as time zone and language configuration, disk partitioning, the creation of user accounts and root password, the configuration of network interfaces and the installation of additional system packages, as well as post-installation and first boot scripts.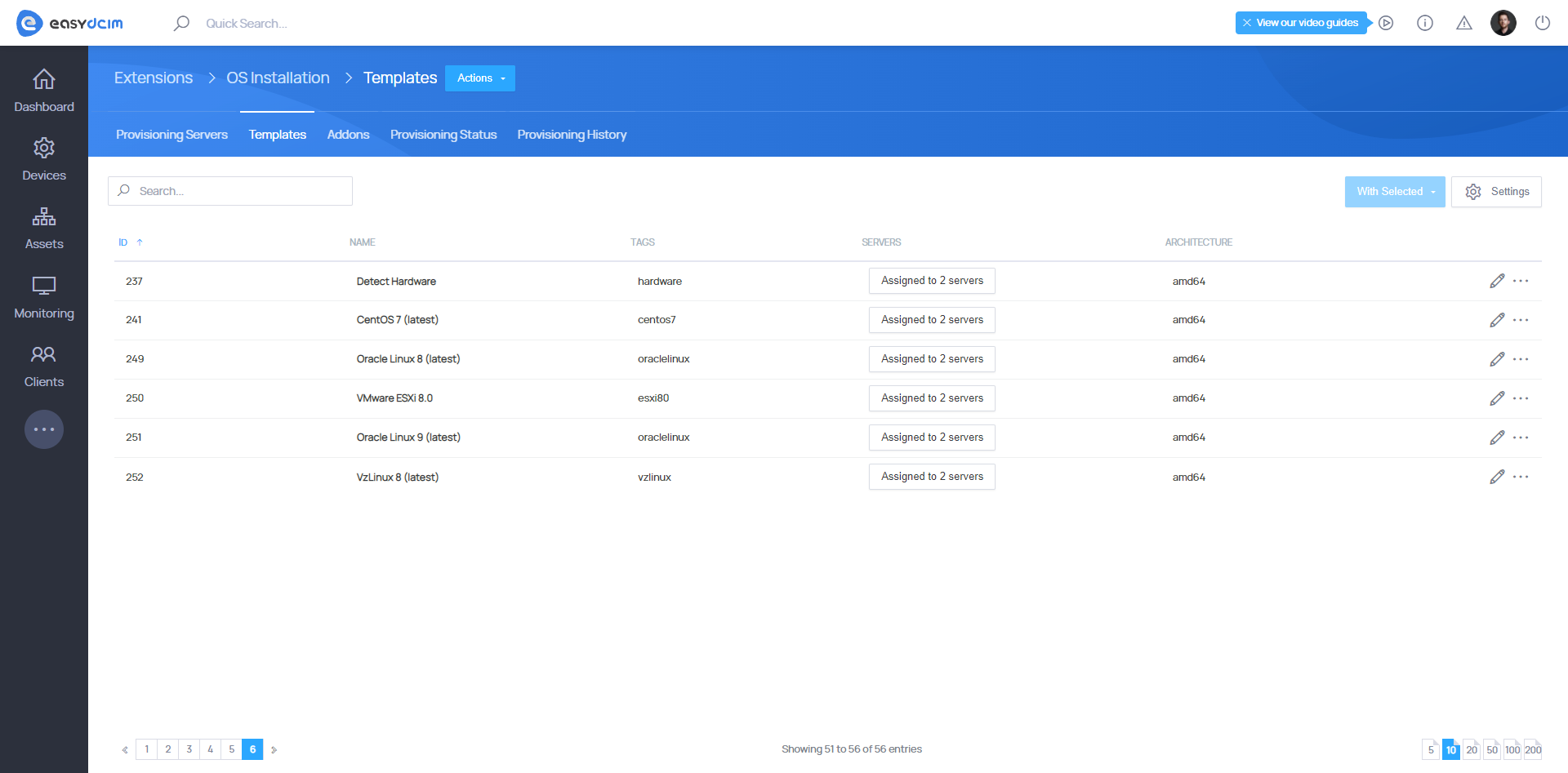 As always, we kindly invite you to take a moment to explore the whole changelog and see the entire update summarized. Spare a moment of your time and dive into the most profound details of EasyDCIM v1.9.4 in person!