Considered "so good, there's simply no reason to not use it", Debian 11, with quite a suggestive nickname "bullseye", has become our next prime target as soon as it popped up on our radar back in 2021. It immediately seemed clear to us that turning integration with this particular Debian distribution into an official feature of EasyDCIM would be… a bullseye (pardon the pun). But what precisely does the transition from Debian 9 mean for EasyDCIM, and how does it justify calling the platform's 1.9.0 version a game-changer on so many functional levels? We're about to find out!
The mother of all Ubuntu-based distributions
Among all Linux distributions you could possibly think of, Debian, with almost three decades of growth, is continuously being ranked as the most stable and versatile one. Its leading position on the global stage can best be illustrated by the fact that other no less known distributions such as Ubuntu, Linux Mint, Elementary OS, etc. can find their roots in Debian.
Did you know?

Each Debian release gets a codename from a Toy Story character. In like manner, it is Woody's wild west horse from Toy Story 2 that has officially become the face of Debian 11.
Eleven is your new lucky number
Debian 11 premiered officially on August 14th, 2021 and, just like all previous releases, is going to be actively maintained for the next 5 years. And to give you a scale of how fruitful two years, one month and nine days of development can be – "bullseye" contains over 11,294 new packages out of an impressive number of 59,551 ready-to-use packages overall in Debian's repositories.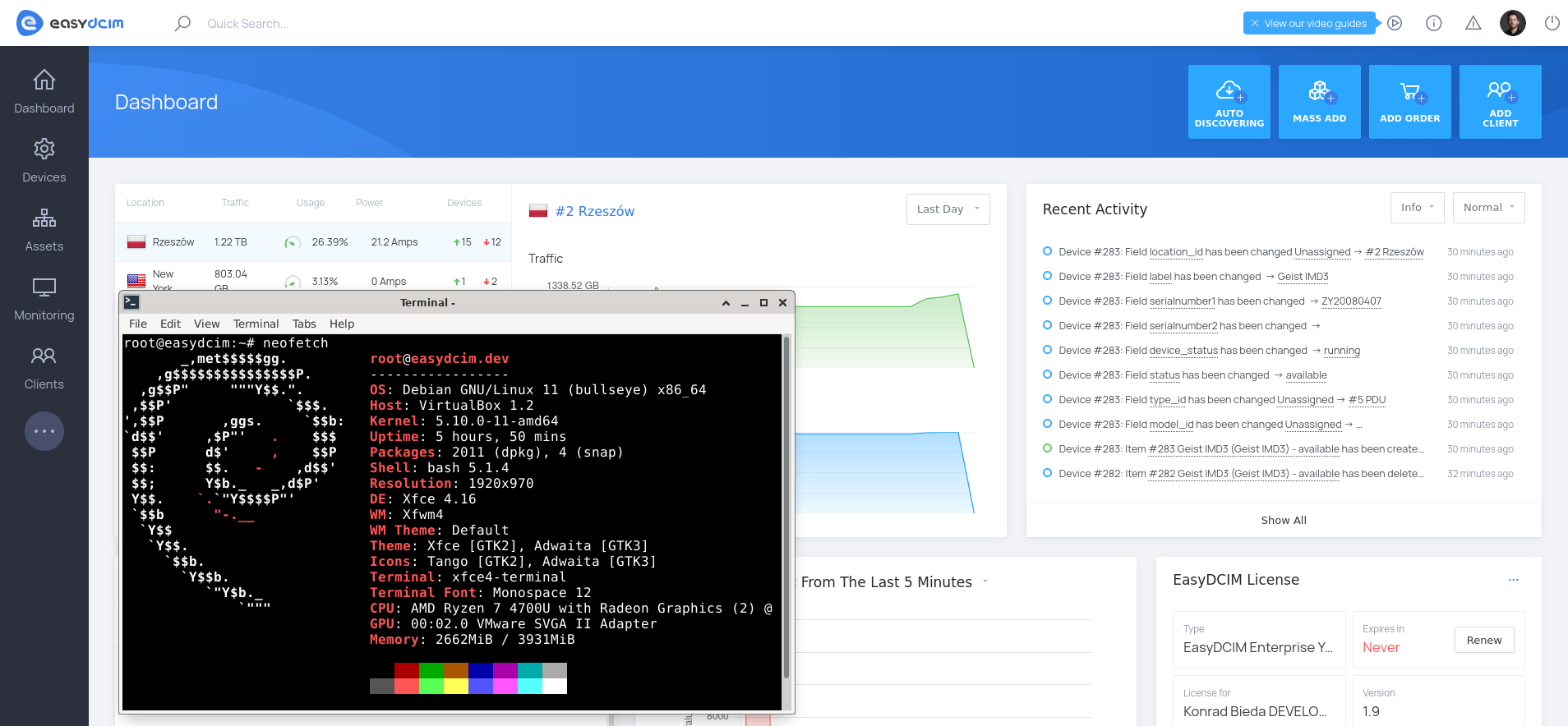 As you can easily guess, it's quite impossible to do Debian 11 justice in just a few words, but we'll happily use this limited space to discuss the most impactful changes (as if we haven't already done so dozens of times in the office), which we believe are:
Linux kernel 5.10 series with support for the exFAT (Extended File Allocation Table) filesystem used by default to mount exFAT filesystems.
Several desktop environments, such as: Gnome 3.38, KDE Plasma 5.20, LXDE 11, LXQt 0.16, MATE 1.24, and Xfce 4.16.
A huge variety of updated software packages, including: Apache, BIND DNS Server, Emacs, GIMP, LibreOffice, MariaDB, OpenSSH, Perl, PHP, PostgreSQL, Python, Rust, Samba, and Vim.
The powerful combination of EasyDCIM v1.9.0 and Debian 11 will not fail to produce a vast range of benefits, with higher security and faster performance being those particularly welcome.
A word of caution:

Debian 9 "stretch" goes End of Life (EOL) on June 30th, 2022, and as such, will not receive any security updates after this date. In consequence, Debian 11 will from now on be the only supported system on which EasyDCIM can be installed.

Our documentation has been updated with detailed guidelines that will walk you through migrating from Debian 9 according to the method you find suitable.
EasyDCIM has got your back!
Secondly, to ensure that you are never left without access to effective protection in the event of e.g. system failure, OS Installation extension returns in the 1.9.6 version with an updated equipment meant to help you with various admin tasks:
Clonezilla 2.8.1-12
Memtest86+ 5.31b
GParted 1.3.1
Hiren's BootCD PE 1.0.2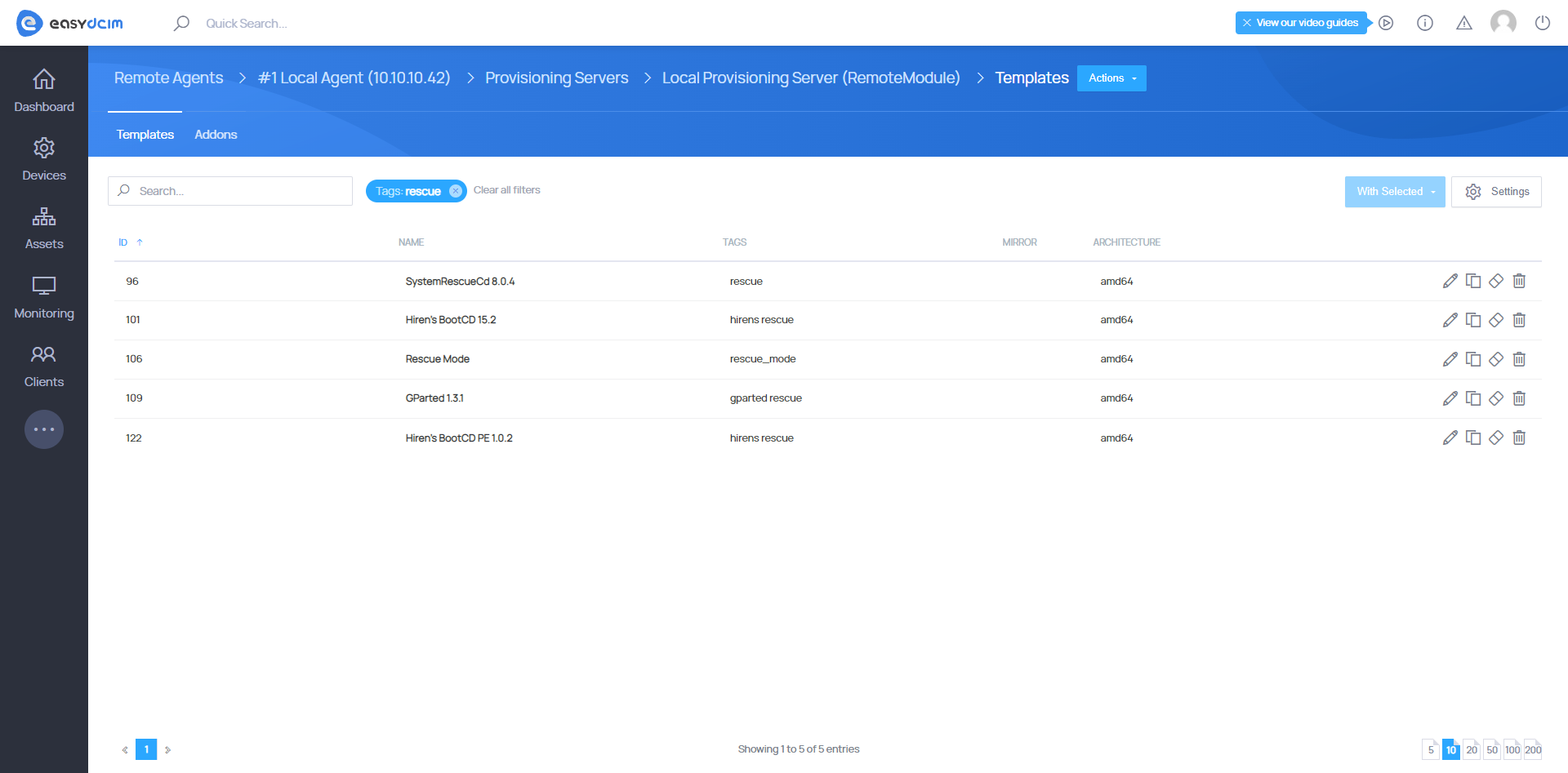 A new face of power outlet management
Another bold feature of EasyDCIM v1.9.0 puts the spotlight on the range of PDU drivers which has been momentously expanded to cover a new driver supporting Dell rPDUs devices. The list of available actions handled by PDU Management v1.2.2 extension include, inter alia, automatic device detection with easy viewing of key parameters as well as power usage monitoring simplified with a graph.
While we focused on highlighting Debian 11 support along with a few other newcomers in EasyDCIM v1.9.0 that we're personally most thrilled about, the changelog will, as always, detail every single kind of modernization that the platform has gone through. If you are eager to figure out which one is your own favorite, there's only one quick step left for you to take: